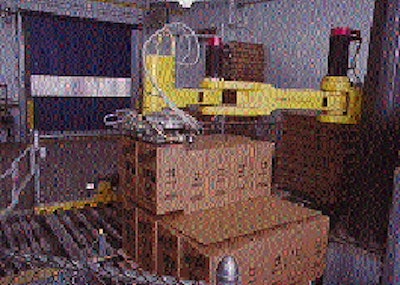 A plant addition, necessary for the balance of the automated line, was designed to also permit quicker service to Pratt & Lambert United's customers. In the past, all pallet loads had to move first through the warehouse and then to loading docks. With the new room, the trip through the warehouse can be eliminated.
Once the cases are sealed and printed, they travel through a wall and into the large new room. Cases are conveyed to the end of the conveyor that serves as the staging area for the Model M400 robotic palletizer from Fanuc (Auburn Hills, MI). This part of the line was engineered by Pacmation (Columbus, OH).
The Fanuc palletizer was selected because it does so much in a small footprint, states Loren Wallace, assistant plant manager. Not only can the suction cups on its arm pick up and deposit heavy cases in programmed position on a pallet, but the arm also picks up a device that grips a wooden pallet and carries it from a stack to the pallet building table. As well, the palletizer can be programmed to do two different loads simultaneously. That will be important once the plant gets its second line up and running.
When a full load is finished, a powered conveyor takes it a few feet to the turntable of the automatic stretch wrapper from Kaufman (Toledo, OH). "We evaluated some different machines, but we liked what we saw in this one," says Wallace. "When it was installed here, it worked right from the start. It's operated like a dream for us."
Film is automatically tucked into the load and the pallet load spins to receive pre-stretched film from a film carriage that securely holds the load together. When the programmed wrap is completed, the system automatically cuts the film and wipes the trailing edge against the load. A forklift can now transfer the finished load into the warehouse or, more desirably, into a trailer waiting at an adjacent dock door.
"This building addition was designed so that we can pull a load off the stretch wrapper and put it directly into a waiting truck," Wallace says. "This option really helps us to respond to customer needs."