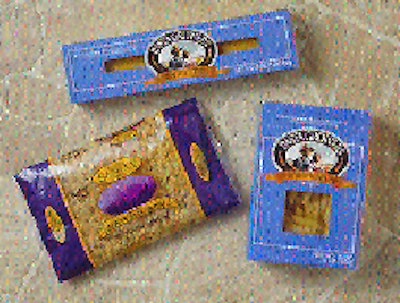 Packaging in multiple sizes for multiple markets simultaneously-that was the key objective as Dakota Growers Pasta Co., a startup wheat growers' cooperative, designed its 300ꯠ-sq-ft plant in Carrington, ND. The plant went into production in November, 1993.
The major markets served by the firm are
*foodservice and institutional users,
*retail stores (primarily for private label customers, but DGP also packs under its own brand), and
*processors that use pasta as an ingredient in the packaged foods they market.
Most of the firm's business is in the first two categories, as DGP packs 240 SKUs for its foodservice and institutional customers and 277 SKUs on the retail side. That kind of variety, and the need to be competitive in three very different markets, meant that DGP had to be as flexible as possible in its approach to packaging.
"Some of the big pasta firms have high volumes in one particular product, so they can dedicate a high-output pasta production line to one packaging line," says plant superintendent David Tressler. "But that kind of dedication was never an option for us because we have too many customers with too many packages. We had to be able to go to many different packaging destinations simultaneously, yet we wanted to be able to produce the pasta in large batches. This keeps us keep from having to start and stop, and it minimizes waste.
"With our system I can total up all the orders for, say, spaghetti in a given diameter and produce a batch that will fill all those orders, regardless of what market segment it's for or what style of package it requires. I don't have to think at the processing stage that I have to hit such and such a packaging line, so the amount I produce isn't governed by how much that one packaging line can handle."
DGP can operate this way because of two product conveying systems that serve as the link between processing and packaging. One handles long goods like spaghetti and linguini while the other is for short goods like macaroni and shells. In fact, the area devoted to packaging is split just about down the middle, long goods on one side and short on the other.
The two sides combined are capable of packaging about 2꺜ꯠ lb of pasta per week. Packaging is done 16 hr per day, processing 24, an arrangement that allows about 8 hrs of in-process product accumulation.
Five machines for long goods
On the long goods side, product is directed to any one of five packaging machines by means of the Pasta Elecon® Multi-Axis Conveying System from Gough Econ, Inc. (Charlotte, NC). It uses buckets to carry product to the packaging lines. What makes it unusual is it substitutes a single-chain drive instead of a two-chain approach. Dual-chain drive is fine for linear transport, but it can't negotiate a turn because the chains are of fixed lengths. Traditionally, to send long goods left or right required a transfer point of some kind, and transferring products as fragile as spaghetti invites problems.
Gough's single-chain system permits buckets of pasta to turn to the right or left as easily as they move up or down. DGP is the second firm to employ the system, which Gough designed originally for Hershey.
The Gough system consists of 377 buckets on 1' centers moving steadily in a 100' x 38' overhead loop at 50 ft/min. The buckets only drop down to floor level to get another charge of pasta from one of two automated cutting machines. Every even-numbered bucket gets fed by the first cutter. Odd-numbered buckets are fed by the second cutting machine. Through PLC controls, it's possible to package two different long goods at one time, one produced in each cutter.
When loaded, the buckets are conveyed over five packaging machines that produce a variety of package sizes and styles. Each day's production schedule determines the machines that will receive pasta. These are the options:
*Model OM/10 intermittent-motion horizontal f/f/s machine from Ricciarelli, available in the U.S. from Sasib Packaging (Skokie, IL). It produces retail packages in flexible film from 12.8 oz to 5 lb, and it's used most often for 3-lb retail packages.
*Model SOPL260 continuous-motion flow wrapper from Stiavelli (Pistoia, Italy). It film-wraps retail packages from 12.8 oz to 3 lb, and it's used most often for packages weighing less than 2 lb.
*Ricciarelli Model LRO Cartoner that packs pasta into retail cartons weighing from 8 oz to 3 lb.
*Two SASIB Integra v/f/f/s systems with Ricciarelli G/3 MP scales. These lines wrap pasta in 10-lb foodservice packages.
The product is transferred from the overhead buckets into the floor-level packaging machines in essentially the same way regardless of which machine is selected. Take the OM/10 machine, for instance. If it's scheduled for production, buckets carrying the correct pasta (A buckets or B buckets) are instructed to dump into a "chimney" directly above the machine. This chimney is actually the equivalent of a hopper. It holds 40 or 50 lb of pasta laid flat in a tall vertical column.
PLC link
Each chimney has a level sensor connected to the PLC that controls the Gough Econ system. When the level of pasta in a chimney gets low, the PLC receives that information through the level sensor and is programmed to trip a bucket to replenish that chimney.
As for the buckets themselves, each has a round gear on its hub. Only when this gear is engaged does the bucket trip, and the engaging is accomplished by a straight toothed gear activated by an air cylinder on command from the PLC.
At the bottom of the chimney is the f/f/s machine. Its scale apportions the pasta into discrete weighments of predetermined size. These weighments are dropped into a chamber in the OM/10 wrapper, and then a piston pushes the pasta from the chamber into the film. A fin seal is heat-sealed onto the bottom of the pack and the end seals are produced by a jaw that includes a cutoff knife.
Packages produced by the intermittent-motion OM/10 are case-packed semi-automatically. The Stiavelli SOPL260 machine, however, is a continuous-motion unit capable of speeds to 100/min. It's linked with an automated case packer from Fallas (Waco, TX) that packs the film-wrapped long goods in RSCs. Conveyors linking machines throughout the plant were supplied by IMH (Oshkosh, WI).
Should the first two packaging machines along the loop be bypassed, four more options remain. The first is a Ricciarelli LRO cartoner for packages holding 8 oz to 3 lb; it discharges into a semi-automatic case packing station. The next two options are Sasib Integra v/f/f/s systems that produce foodservice packages in flexible film weighing 10 lb each; again, linked to these are semi-automatic case packing stations. And finally there is a station for semi-automatic loading of 20- or 40-lb cases destined for food manufacturers who need pasta as an ingredient.
Redirecting pasta from any one packaging machine to another takes less than a minute, says Tressler. It's done via push buttons at the control station.
Two different films are used to produce the flexible packages of long goods. For the foodservice packages, polyethylene is typically used. For retail packs, however, something with a little gloss is usually preferred, so polypropylene or PE/nylon blends are often used. In addition to being glossier and generally more appealing in appearance, they're stronger than straight PE and are better suited for the higher speeds at which retail packs are produced.
Short goods handling
On the short goods side, product moves from driers to bucket elevators and then to any one of a dozen 700-cubic-foot vertical bins or one 6길-cubic-foot horizontal bin. Smalley Mfg. (Knoxville, TN) provided the entire handling system, as well as the conveying equipment that moves product from bins to the packaging machines.
Operators program which of the 13 bins should release product and select which packaging machines it should flow to. The system is capable of taking product from as many as four different bins simultaneously. Belt conveyors take the product, at floor level, through screening equipment and then to bucket elevators that lift the pasta to overhead belt conveyors leading to one of seven destinations. Three are identical, each consisting of a 14-bucket combination scale over an Integra vertical f/f/s system, both from Sasib. Two are cartoners, also from Sasib. One of the cartoners is fed by a 14-scale combination weigher. More "flowable" product, however, runs at higher speeds, up to 200 cartons/min, on a volumetric cartoner. This machine also has a magazine feed that enables it to automatically insert a premade pouch of cheese sauce.
Final stops
Two final destinations the short goods may be directed to are a regrind station and a bulk tote, the latter for food manufacturers who use the pasta as an ingredient in the product they market.
All three vertical f/f/s systems on the short goods side feed semi-automatic case packing stations, as does the slower of the two cartoners. Cases typically are unprinted since so many customer names are involved. Variable information, including production codes and time of day, is usually printed on the case by DGP. For example, after cartons produced on the slower of the two cartoners are loaded into cases, the cases have four lines of information printed on each side panel by a Marsh (Belleville, IL) ink-jet coding system mounted on a top and bottom taper from 3M Co. (Minneapolis, MN).
The faster volumetric cartoner feeds into an automated case packer from Rockford Midland (Rockford, IL). All palletizing is done manually, as it is on the long goods side.
"Our idea was to automate up to a certain point," says Tressler. "After packaging we left it quite manual to allow flexibility. When you start up a new factory you never know quite who your customers will be. Only when the orders come in do you really know what the case and pallet sizes are. If you automate too much too soon, you may not be able to adjust to customer variables."
This ability to adjust is indeed the plant's key strength. "We mix and match to meet customer needs as they develop," says Tressler. "But all the time we have to be able to package faster than we produce."
At 120 million lb of pasta annually, that's a whole lot of packaging.
Companies in this article