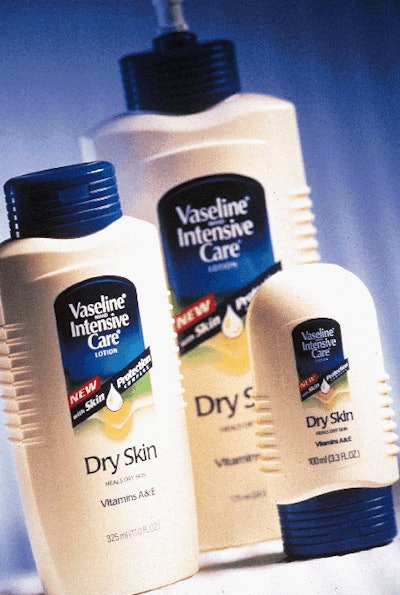 'Globalization is very real, which makes packaging a hot topic all over the world."
So said Elliot Young at a recent Nova-Pack conference sponsored by Schotland Business Research (Skillman, NJ). Young, the chairman of a marketing consulting firm called Perception Research Services (Fort Lee, NJ), makes a living helping companies take their products into global markets. A key strategy he recommends is uniformity of package appearance from one market to the next.
It's a strategy that Greenwich, CT-based Unilever followed to the letter recently as it redesigned the package for its Vaseline Intensive Care Lotion. "The relaunch was initiated in the U.S., but it will be rolled out across the world," says brand manager Ken Vinh. "The idea is to manage the consistency of the brand's equity, so that wherever you go, the line has one look."
Executed by design firm Group 4 (Aaron, CT), the redesign was driven partly by Unilever's wish to extend its reach into non-U.S. markets. That's why bottle sizes have been changed. Gone are the 2.5-, 6-, 10-, 15- and 24-oz sizes. They've been replaced by 100-, 325-, 525- and 725-mL (3.38-, 10.98-, 17.75- and 24.51-oz) bottles, the metric sizes that are more familiar around the world.
The high-density polyethylene bottles with ergonomic ribbing along the sidewalls will be the containers used in all markets. Heat-transfer-labeled graphics will be consistent, too, though language will vary by market.
Although consumer testing for the new look was done in the U.S., global requirements were hardly ignored, says Group 4 president Frank von Holzhausen. "We try to take into consideration the competition in the various markets and the retail environment there, as well," he points out.
Desirable as it may be, a single global look isn't always possible. That's one lesson learned by Stanley Tools of New Britain, CT, over the years.
"We've had plenty of experience in trying to get the Stanley name around the globe," says Allen Pendergraph, manager of packaging development. "One of the difficulties you face in achieving package uniformity is that the retail environment is so different in the U.S. compared to Europe or Asia."
In the U.S., mass merchandisers, home centers and hardware chains are Stanley Tools' major customers. In these sometimes cavernous settings, consumers are left to their own devices. Packaging must be informative. It also has to help prevent pilferage. The environment is quite different outside the U.S.
"In Europe," says Pendergraph, "you have a lot more of the smaller stores under 50ꯠ square feet." Packaging doesn't have to do as much, so "It tends to get minimized," says Pendergraph.
"Stricter environmental laws can't be ignored, either," he continues. "Take the Stanley utility knife, for example, which we sell around the world. In the U.S. it's in a PVC [polyvinyl chloride] blister heat-sealed to a coated SBS [solid bleached sulfate] board. In Europe, the board is recycled material, and it's usually printed with water- or soy-based inks. Also, it's a sandwich blister, where the plastic blister is floating between two pieces of paperboard, the top one die cut so the blister cavity protrudes through. Because the heat seal is board-to-board, the plastic component separates cleanly with no torn fiber stuck to it. The whole idea is to simplify material separation prior to recycling."
In Asia, as with Europe, large stores are a rarity, says Pendergraph. "Our product there goes primarily through distributors," he points out. "They like minimal or no packaging, even bulk packaging if it means a discount."
Pendergraph says a company's approach to global packaging should begin with the answer to a simple question: How do we want to go to market in different parts of the world?
"Company strategies may vary," he points out. "In Europe, for example, some companies may have different packages for different markets. Our strategy is to view Europe as a whole, so we look for the most stringent environmental standards and design a package for that environment. Then we know that package will work in any European market."
He admits that, because environmentally friendly packaging often comes at a premium, Stanley may be paying more for packaging in some regions than is actually necessary. "We struggle with cost constantly," he says. Nevertheless, the pan-European look remains Stanley's strategy of choice.
One size fits all
Although willing to customize packages regionally if necessary, Stanley also seeks opportunities where one size fits all.
"Three years ago we went to a single global product line manager in our marketing setup," says Pendergraph. "That's when we started down the road of commonality of package sizes around the world."
Measuring tapes are a good example. Made in the U.S., Thailand and France, they're packaged in blister packs. Language printed on the paperboard blister card varies according to whatever market the item is destined for. "Each plant makes product for any market in the world," says Pendergraph.
Until 18 months ago, there was no standardized size for the primary packaging materials or corrugated shippers these plants used for the tape measures. But now all three manufacturing sites use packaging components whose sizes are standardized by SKU. Corrugated shippers, or "merchandising modules," as Pendergraph calls them, are identical building blocks for markets around the world. That results in tremendous flexibility at the Stanley distribution center to which all three sites send their product.
In building an end-aisle floor display for a mass merchandiser like Home Depot, for example, Stanley could previously only use shippers from one manufacturing site on a given display, because shippers from the other two plants were sized differently. Now shippers from any of the three manufacturing sites can be mixed together. Speed to market, says Pendergraph, is greatly improved.
Consolidating vendors
Stanley also has begun taking a closer look at its relationships with suppliers of packaging materials. PVC blisters, for example, are now made in one place and shipped worldwide.
"In the past we tended to [buy blisters] very close to the individual manufacturing plants," says Pendergraph. "But now we have an inventorying system that lets us look at demands from all our plants worldwide and buy smarter. Material costs are pretty standard throughout the world. The savings come mainly from set-up time and tooling costs. Now you don't have two or three sets of tooling world-wide you're paying for. You pay for it in one spot."
In the end, says Pendergraph, sourcing packaging materials for a global network of manufacturing sites is like one big balancing act. "You have to look at volumes and shipping costs, but you can't ignore service levels, either. If you source a blister in the U.S. for shipment to Thailand, you have to figure in the four-week delivery time over there, and that can be a drawback.
"There are no absolutes," he concludes, when it comes to consolidating packaging material suppliers on a global basis. "But you find in many instances, when you closely examine the circumstances, that [consolidation] helps you achieve very good cost savings and much better consistency in the look of your package."
Graphics on corrugated
Stanley isn't the only firm wrestling with issues of consistent appearance in markets around the world. Apple Computer of Cupertino, CA, is another. Among its newer product introductions is a large 21" display monitor that Apple manufactures in Singapore and the U.S.
"There is no converter in Singapore that can produce such a large litho-laminated corrugated box," says Apple's Mark Doutt. "So we have our converter here in the U.S. ship flat boxes to that facility. It's not our preference, of course, because there's an extra cost involved in shipping the box all that way." So why not forgo litho-lamination in Singapore and have box converters in that region supply a box that looks as similar as possible? "The importance of global consistency in appearance outweighs the added cost," says Doutt.
It's more than just appearance that packagers wrestle with as they face an increasingly global marketplace. Structural issues are equally pressing.
Just ask packaging engineer Joe Sleeper at Knape and Vogt in Grand Rapids, MI. This manufacturer of hardware parts such as drawer slides, shelving and shelving supports distributes worldwide to OEMs and to retailers alike. Lately the company has identified offshore sources capable of producing some of its products more economically than can be done in the U.S. A manufacturer in The People's Republic of China, for example, has been selected as a good source for shelf supports. Packaging them in corrugated shippers, however, is another story (for more on corrugated in China, see p. 52).
"According to some stats I got off the Internet, there are 6ꯠ box makers in the People's Republic of China," says Sleeper. "But they have no standards like the ones we're accustomed to in the U.S."
Some companies that worry about the reliability of shippers sourced in China simply throw more corrugated at the problem by specifying a double-wall structure. "But that's expensive," says Sleeper. "And if our customers have to then dispose of all that corrugated, they're not too happy. Instead, we've moved toward performance-based specs rather than relying on numbers that quantify bursting strength or edge-crush test."
Knape & Vogt's supplier in China must subject all packaging materials to a laboratory performance test consisting of drop, vibration and compression tests. The parameters of the tests are clearly spelled out for various part numbers. Also spelled out are the acceptance criteria that packages must live up to. Packaging passes the test if the criteria are met.
"It's a matter of defining what's acceptable and what's not," says Sleeper. "If you've never used performance specs before, it's unlikely that you have acceptance criteria defined." Sleeper's job was to define them.
Packaging for shelf supports represents the first of many projects Sleeper has worked on, projects that tend to "stretch out," as Sleeper puts it. "It took a full year to execute that one," he observes. Part of the process is educating internally what packaging performance specs are all about. "'It's just packaging' is what I hear a lot," says Sleeper. "But if the package fails somewhere in the distribution chain, then its importance is suddenly obvious."
Assisting Sleeper in developing performance specs was transport packaging consultancy Dennis Young & Associates (Grand Rapids, MI). In a paper called "Globalization and how to test for it," presented April '98 at ISTACON in Orlando, consultant Dennis Young had this to say about performance specs:
"Unlike some aspects of packaging-based marketing, such as graphics impact, all aspects of transport packaging are quantifiable. Measurement techniques and evaluation methods do exist. By targeting package performance, instead of packaging materials or construction, we can emphasize the value that packaging brings to the product/package combination."
It's all in the numbers
Just as transport packaging is quantifiable, so, too, is the environment a package must negotiate. Take Mexico, for instance. In a recent study, Eastman Kodak of Rochester, NY, verified that the distribution environment in Mexico is three times more rugged than the U.S. Knowing that certainly helps packaging engineers design primary and secondary packages capable of getting Eastman product safely to and through the Mexican market.
Now Eastman is teaming up with Johnson & Johnson of New Brunswick, NJ, and Hewlett-Packard of Palo Alto, CA, on a jointly funded study of the distribution environment in China. Results of this study, for the short term at least, will be closely held.
"Film, paper, chemicals and cameras--the packaging for all four will be tested," says Eastman's Steve Pierce, manager of product/package testing in the dynamics lab. Testing will be limited to packages weighing 50 lb and less, he adds. "You broaden your focus too much and you learn nothing," he says.
Dennis Young & Associates was retained to conduct the nine-month distribution study in China. Both rail and over-the-road transport will be analyzed. Much of the data will be gathered by means of data recorders supplied by Lansmont Corp. (Monterey, CA). These computerized electronic units are capable of measuring and recording factors like humidity, temperature and vibration experienced by a package throughout the shipment.
"Several J&J companies were interested in participating in this study of China," says J&J's Hal Miller, director of packaging technology. Two of the three--McNeil Consumer Products and J&J Consumer Products--currently manufacture and distribute product in the People's Republic of China. The third, Ethicon Endo-Surgery, makes goods in the U.S. and is planning for distribution in China. "Since we have not evaluated distribution systems in China, we can only guess," says Miller. "This study should identify the different modes of transport and what effect they have on products we distribute there and the packaging we use."
Working with craftspeople
Williams-Sonoma, a direct-mail and retail marketer based in San Francisco, relies on global sourcing for the bulk of its product lines. Craftspeople and manufacturers from around the world pack and ship their goods to the Williams-Sonoma distribution center in Memphis, TN. From there, Federal Express (Memphis, TN) whisks them out to customers around the world who order from catalogs. Also receiving some portion of these shipments are 300 retail outlets in the U.S.
"Craftspeople just aren't familiar with protective packaging," says Paul Koning, director of packaging at Williams-Sonoma. His responsibility since joining the company about a year and a half ago has been to establish some reliable standards and a workable packaging protocol.
"I'm trying to push the package design effort up the pipeline and make it happen in the source country," says Koning. "If I wait for a sample to arrive here and then do package testing, it takes too long to get to market. So I've established test lab partners around the world to whom our suppliers can take their products and actually test the packaging."
A graduate of Michigan State's School of Packaging with previous experience at IBM and Apple, Koning had some adjusting to do when he began dealing with hand-made items that emerge from cottage industries.
"How do you package a lamp? A chair? A table? I wanted to document techniques on how best to do that. And really the whole crux of it is performance testing, drop and vibration testing specifically. Now we have a network of labs around the world that do that."
These are individual unit packs, too, not bulk packs. "I want everything individually packaged so that in our distribution center all we do is pick, label and ship," says Koning. In addition to being highly efficient, an added benefit is that the company pays for packaging labor at the source, typically less costly than paying someone in Memphis to handle packaging.
The experiences of Williams-Sonoma and the other firms mentioned here make it clear that Elliot Young was right about how important the trend to globalization is in today's economy. "The glory days are just beginning," says Coca-Cola CFO James Chestnut in a recent interview about global expansion.
As soon as the worldwide economy gets past its current hiccups, those "glory days" will probably materialize in a hurry. When they do, packaging considerations will play a key role in determining just how glorious they get.
Companies in this article
Videos from All Packaging Machinery Corp.