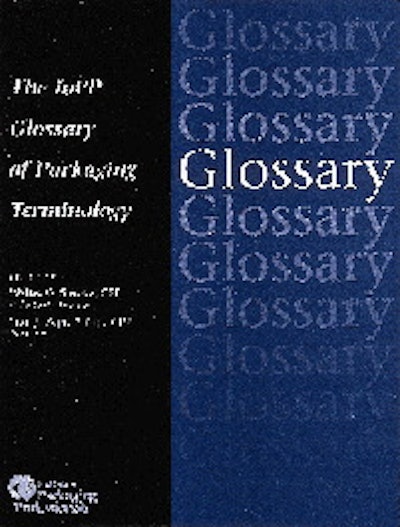 It's harder than it seems. Where, for instance, does packaging end and mechanical engineering begin? Or controls engineering? Or polymer science? Or retail distribution? Or printing and graphics? Or environmental issues?
The latest version of the Institute of Packaging Professionals' (Herndon, VA) packaging glossary tackles such questions. Indeed, IoPP boasts that this new version contains more than 8ꯠ terms, double that of the previous version. It also comes with a handy Windows(TM)-compatible searchable CD-ROM of the same glossary terms. The book and CD-ROM cost $95 for non-members and members alike. The glossary is edited by Walter G. Soroka, CPP, and Paul J. Zepf, CPP.
It's insufficient merely to say that the book provides a well-balanced listing of packaging machinery and materials terms. The glossary lists almost every conceivable packaging term, including many machine and mechanical concepts related to packaging equipment.
A good illustration of its comprehensiveness can be illustrated with the term conveyor. Often given short shrift in discussions of packaging equipment, the glossary goes on for more than five pages defining every conceivable variation of this in-between machine that is the "glue" stringing together lines of packaging equipment. The definition for conveyor systems itself is more than half a page.
And each packaging material--boxes, cans, bottles, cartons, glass and flexibles and much more--spawns hundreds of terms associated with its manufacture, processing and decorating. And for the most part, they're all in here. The glossary even includes hard-core blow-molding terms like hot runner: "Used in multicavity injection molds. Hot runners act as a manifold nozzle system to keep resin fluid during the entire molding cycle. This eliminates the need to remove runners from a finished, ejected part."
The book also has a plethora of terms on package testing, environmental issues, machine components, manufacturing efficiency, controls, materials handling, electronic article surveillance and much more. Its entries include acronyms as well as the names of associations relevant to the field.
Precisely because the glossary covered some subjects so thoroughly, it was surprising to find some startling omissions. For example, we couldn't find Bliss, as in Bliss-style corrugated case, or induction sealing, or even netweigher.
And because packaging covers so much, it's hard to say what really belongs in a packaging glossary. However, we are certain that cursor (as in the blinking blip on your computer screen), hyperlink (on the Internet), office automation, minicomputer and other general computer terms easily could have been left out.
But these are minor sins, easily redeemed by the ambitious scope, broad sweep and concise, packaging-specific definitions. While The Wiley Encyclopedia of Packaging Technology may be broader, it's also larger, often providing far more information than may be needed. This book does the job well, keeping most definitions to a succinct four sentences or less.
And for those who are picky about their packaging terms, the glossary can be relied upon as an authority to resolve those age-old disputes over style and spelling. For example, is it monoblock or monobloc? (The latter.) What about man-machine interface versus human-machine interface? (Guess which is more recent?)
Refreshingly, the glossary uses a style that grammarians would call descriptive, rather than prescriptive. That is, it attempts to describe terms as they're used, acknowledging occasional conflicting usages, rather than prescribing one correct way to the exclusion of all others. This welcome approach takes an amusing turn when it comes to the glossary's definition of packaging industry: "A loosely used, indefinite term that has no generally accepted meaning." Tell that to the project manager at the next team meeting. (To be fair, the definition goes on to say that the phrase can mean different things: packaging materials suppliers, makers of packages or packaging machinery manufacturers. Still others refer to packaged goods companies that use packaging machinery or materials.)
One minor irritation is an occasional tendency for a term to creep into the definition itself. Examples: Calendar blister: "A large calendar blister card designed for ease of use and to assist in patient compliance," or flow-wrapper: "A horizontal flow-wrapping machine typically used to wrap irregularly shaped items such as baked goods..."
Useful special sections
Although the majority of the book consists of 300+ pages of glossary terms, there are five appendices. They cover weights and measures; container dimensions and tests; package component terminology; plastics; and wooden pallets.
Standouts among the appendices include a can size conversion chart for converting industry nomenclature such as "No. 1 Tall" to 301x411 to 16.7-oz. There's a similar chart for closure sizes. Also included are several well-done, annotated diagrams of a rigid bottle, metal can, aerosol mechanism, closures and finishes.
And no packaging glossary would be complete without a section on plastics. The plastics-related appendix provides a convenient chart of all the packaging-related plastics acronyms and their definitions. Also included is a handy couple of pages defining frequently used but again rarely defined terms such as tensile strength, melt flow, flexural modulus and more. A chart shows typical representations of how such terms are expressed as measurements.
Overall, the glossary and its CD-ROM sibling represent a useful, compact source of reliable information. Admittedly, for those whose job duties touch only tangentially on packaging--such as purchasing or production--even this compact glossary may be overkill. But for those whose job duties consist exclusively of packaging, a definitive, packaging-specific information source like this is hard to find and will occupy a worthy spot on one's bookshelf. (DN)
Companies in this article