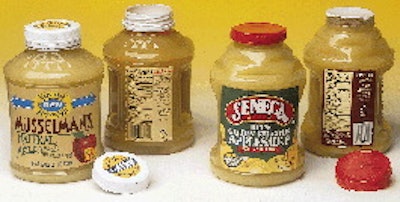 As if bottles and jars made of polyethylene terephthalate haven't already made enough inroads into markets previously ruled by glass, a new food category is now cozying up to this popular member of the polyester family: hot-filled applesauce. Judges in the twelfth annual DuPont Awards for Innovation in Food Processing and Packaging were so impressed with two pinched-grip, heat-set, wide-mouthed applesauce jars, they broke with tradition and named both dual winners of the prestigious Diamond Award (for more DuPont winners, see p. 72). One contains product marketed by Seneca Foods and the other by Knouse Foods.
First to reach store shelves with a pinched-grip PET jar was Seneca Foods (1) of Marion, NY (see Packaging World, June '98, p. 2). This spring the company launched three varieties in 48-oz net weights and one slightly less dense variety in a 46.5-oz version all in the same jar. All sell for $1.99 to $2.49. Injection stretch/blow-molded by Graham Packaging (York, PA) on two-stage equipment, the jar has a 63-mm finish. Specialized geometry helps provide top-load and hoop strength so that the round container won't deform as the hot-filled product cools and internal vacuum pressure builds. The container can be filled at temperatures to 200°F.
The Seneca jar is topped by a linerless Sun-Twist Closure that is injection-molded of polypropylene by Kerr/Sun Coast (Sarasota, FL). Inside the closure is an induction-seal foil membrane with a special coating. When it's induction-sealed, the coating helps provide a reliable hermetic seal at high temperatures. The patented Edge Seal(TM) feature molded into the closure keeps water from being drawn between the container's neck finish and the closure during cooling. If allowed in, the water could collect on top of the foil membrane, which is unsightly and could allow mold growth over time.
On a per-ounce basis, consumers pay about the same for Seneca apple sauce in either plastic or glass, says Seneca director of marketing Kevin Hennessy. "For us the plastic is about ten percent more costly than glass, but we're putting in ten percent more sauce into the plastic jars," adds Hennessy.
Different strokes
Different strokes
The applesauce sold by Knouse Foods of Peach Glen, PA, is in a different bottle (2) and takes a different closure. The bottle is injection stretch/blow molded, again on two-stage equipment, by Schmalbach-Lubeca (Plymouth, MI). It has a white crystallized neck finish that marks it as a product of the Yoshino technology that S-L is licensed to use.
"We like the crystallized finish because we saw minimal distortion in tests we ran," says Knouse quality control manager Bob Binkley. "We can fill up to two-hundred and five degrees Fahrenheit, which is right in line with our process here."
The 63-mm injection-molded PP closures, supplied by White Cap (Downers Grove, IL), have no foil membrane. The VHJ closure does have, however, a full-disk liner compression-molded of a thermoplastic elastomer compound that is designed to ensure seal integrity. The closure may change in the near future, says Binkley, as White Cap continues to develop a ring-lined version in which the liner only covers where the threads of the neck finish contact the closure.
Decaser, filler and in-line capper all remained unchanged at the three Knouse plants where 46- and 48-oz glass has been replaced-or is being replaced-by PET. The most significant change to the packaging lines is the addition of a Starmatic front-and-back cold-glue labeler from Krones (Franklin, WI). It detects a lug molded into the bottom of the bottle to orient it properly for front-and-back labeling. Also installed were p-s labelers that apply a label on top of the closure to draw attention to some of the benefits of the plastic container. Finally, vision inspection equipment from White Cap was also installed to detect for missing or misapplied caps.
Shelf life provided by the 81-g container is "probably not as great as with glass-packed sauce," says Binkley. "But the idea is to not keep it on store shelves as long as glass-packed product was kept. We won't build a large inventory. We may even pack this product year round."
Barrier bottle
High-barrier packaging almost always makes a strong showing in the DuPont Awards, and this year's no exception. Bass Brewers of Burton-on-Trent in England won a silver award for its 33-cL plastic bottle (3) for Carling Black Label beer (see PW, January '98, p. 2 and March '98, p. 54). The 29-g bottle is made by American National Can (Batavia, IL), a Pechiney subsidiary. ANC co-injection molds the preforms and blows the bottle in its U.S. facilities. Bass fills it at an unnamed contract packager in the U.K.
The three-layer construction incorporates ethylene vinyl alcohol between two layers of PET. When the bottle debuted, shelf life was pegged at 12 weeks, sufficient to get the contents safely to consumers at the outdoor and stadium events at which it was aimed. Bass's Bill Dando, director of package development, says recent improvements in the ANC technology have increased the shelf life to 14 to 16 weeks. Distribution has expanded, too, to include some pubs and clubs.
"We're still not mass distributing the bottle," says Dando. "But it's time to seriously look at additional market outlets." When it comes time to enter those new markets, it may be with a different bottle. The shelf life Bass now aims for in a plastic beer bottle is six months.
"We feel three different technologies will each give us a six-month shelf life,"says Dando. "I think we'll wind up going with the best cost. It's a good position to be in."
From down under
Based in Australia, packaging supplier Southcorp Packaging's NuWave Div.-represented in the U.S. by Southcorp Packaging USA (Atlanta, GA)-won a gold award for clear, PP food cups (4) that have high-barrier properties and are retortable.
One of the first users of the deep-drawn thermoformed cup is Melbourne-based S.P.C. Ltd., Australia's largest fruit processor. Its Coolfruits products, shelf-stable fruits packed in juice, syrup and jelly, were introduced in supermarkets in May '96. The cups provide a shelf life of 18 months, according to S.P.C. managing director, Dr. Peter Thor.
Cups for S.P.C.'s products, available in sizes ranging from 120 g (4 oz) to 410 g (15 oz), are formed from a seven-layer coextrusion. Although the details about specific structure were unavailable, the cups do contain several layers of PP, a barrier layer of EVOH, and tie layers. The outer PP layer contains a UV absorber to retard bleaching of the fruit due to light exposure. Cups are lidded with a clear film whose composition S.P.C. declines to divulge. S.P.C. either hot-fills or retorts these packages, depending on the product.
Containers are decorated with one- and two-color offset printing, by NuWave as well as other local container decorators. The clear lidding is also produced and printed locally. Cups are packaged in wraparound paperboard sleeves, printed in six colors.
Although S.P.C. continues to sell processed fruit in metal cans, it has found that the cups have increased its overall business. "We found that putting fruits in clear plastic cups actually expands consumption," Thor tells PW. "Cannibalization of metal cans is minimal. We're presumably drawing people who do not ordinarily purchase canned products."
The products sell for A$0.75 (US44¢) to A$1.90 (US$1.14).
What makes these cups unique, according to Michael Stevenson, NuWave's business unit manager, is the depth of draw, which is 105 mm (4.1") at a cup diameter of 89.4 mm (3.5").
"It wasn't a simple matter of just getting a thicker sheet and bringing it down," says Stevenson, adding that there was quite a bit of development work required to "draw all the layers down and maintain [shelf life] integrity."
A second challenge, he says, was to balance clarity with wall stiffness. The sidewall rigidity is important because some customers seam on easy-open metal ends. The seaming process requires good top-load strength.
The cups are thermoformed and trimmed in place on equipment from OMV, represented in the U.S. by OMV-USA Machine Div. (Genoa, WI).
Foodservice pastry bag
Capturing a silver award was a plastic bag (5) for natural, cold-packed extrudable cheeses named Creative Catering Cheese(TM). Last September, Green Bay, WI-based Schreiber Foods began selling 2-lb quantities of these cheeses to foodservice accounts in this triangular pack, which is designed to resemble a cloth pastry bag. Caterers and chefs use the bags to extrude cheese onto their various creations.
The structure is an extrusion lamination of 1-mil outer layer of biaxially oriented nylon that's reverse-printed flexographically in six colors, and 1.5 mils of linear low-density PE. The 3-mil structure is supplied by Curwood (New London, WI). An outside supplier, whom Schreiber would not identify, makes the pouches from Curwood's rollstock.
At its Wisconsin Rapids, WI, plant, Schreiber uses "modified volumetric filling equipment" to fill the cheese into the wide, unsealed top of the V-shaped, pre-made pouch, says Schreiber's Dan Shannon. Shannon is the principal engineer/team advisor who was involved in the design of the bag. The bag measures 16" from the point of the dispensing bottom to the 9 1/2"-wide top edge.
"It's a semi-automatic filling process," he explains. An injection-molded PE dispensing tip is manually placed in the bag, near its bottom before filling and heat sealing. Product is sold to foodservice distributors nationwide.
Cutting instructions show users precisely where to snip off the bottom end of the film. The user then slides the dispensing tip into the bottom opening. A flange around the dispensing tip prevents it from falling out of the end. As PW went to press, Schreiber was readying a snap cap to allow end-users to reseal the tip. Shannon says the company now recommends its users simply cover the end with a piece of plastic film between uses.
"In the past, caterers or chefs had to take cheese from a tub, soften it and scoop it into a cloth pastry bag," says Shannon. "Then they'd have to really scrub and sanitize the bag for food safety reasons because one time the bag may be used for cheese, then maybe for frosting and the next time perhaps for something that might contain meat.
"This bag," he continues, "is disposable, and there's no cross-contamination. It also eliminates those time-consuming tasks of handling the tubs and the filling and cleaning of the cloth bags. That's a big issue in foodservice today as labor is in such short supply now. Every restaurant you go to [it seems] is looking for help."
Shannon says that while cloth bags are also equipped with a dispensing tip, "the plastic bag makes dispensing easier. Product is absorbed right through the cloth. With this bag there's much better evacuation because it's plastic and not porous like cloth. You have less product loss than you would scooping it out of a tub and putting it in a cloth bag."
And what about the economics of purchasing pre-made bags? Shannon says, "From our end, it's probably a wash compared to putting it in a tub. The real advantages are for our customers, because it's something that's ready to use and they don't have to scoop cheese from a tub and put it into a cloth bag and face those food safety issues." Privately held Schreiber uses the structure for six varieties: three cream cheese and three cheddars. "We can't discuss volumes," says Shannon, "but it has done well sales-wise, exceeding our expectations."
Foamed CPET
Also a silver winner is a food container (6) thermoformed by Genpak (Glens Falls, NY). Called PET+, it's made of crystallized PET, or CPET as it's come to be known. But this CPET is foamed, made possible through a proprietary blowing agent. The foam material is said to be more attractive and more easily microwaved than aluminum foil, and it's lighter than conventional non-foamed CPET. It also costs less than either foil or conventional CPET.
Commercial applications thus far are largely in the foodservice sector. Supermarket chains Grand Union and A&P, for example, use the material at their in-store bakeries for angel food cakes. For each chain, Genpak ships nested 8"- dia, 3"-deep cake trays to a distribution center that then sends them to individual stores. There the containers are filled with batter, baked, topped with clear PET domes, and labeled and merchandised as store-brand items.
Grand Union's director of bakery merchandising Bill de Brauwere says the foam CPET has been used by Grand Union's in-store bakeries for about four months now. The store went through a transition from foil to conventional CPET to foam CPET. He reckons the foam is about 15% less costly than the non-foam CPET, which now has been completely replaced by the foam version. He also likes the appearance of the CPET containers compared to the foil that had been used for many years.
Like conventonal CPET, PET+ is dual ovenable. But PET+ is about 70% lighter than nonfoamed CPET. That makes it less expensive and more desirable from a source reduction standpoint.
The PET resin used by Genpak is Traytuf® 2928 from Shell Chemical (Houston, TX). Genpak adds to it a proprietary blowing agent that plays a key role. Genpak's R&D manager Walt Harfmann explains.
"Polyester runs at a very high temperature, and most conventional blowing agents have too high a vapor pressure at the melt temperature for polyester to make a foam. Those blowing agents just blow the cell walls out. We discovered a unique blowing agent and received a patent on a blowing process that works."
Like conventional CPET, PET+ is extruded and then chilled in its amorphous state before being wound. Next is thermoforming in a heated mold. Genpak uses a system from Irwin Research & Development (Yakima, WA) that has been modified to make it run this material. Otherwise, Harfmann adds, "We thermoform in a fairly conventional manner. Sheet is preheated in an oven and then a heated tool forms the part and simultaneously crystallizes it."
Coming up with the patented blowing system was the first of three main challenges Genpak met in bringing this product to market. The second challenge was overcoming the natural tendency for foams to insulate themselves and slow down the cooling process.
"If polyester cools slowly, it crystallizes," says Harfmann. "If the sheet crystallizes it can no longer be formed. It will warp in the oven, it won't keep a stable shape. What we developed is a patent-pending way of quenching the foam to keep it from crystallizing before the thermoforming step."
The third accomplishment in creating PET+ concerns trim scrap.
"To make foam," says Harfmann, "you need a polyester very high in molecular weight. The intrinsic viscosity of conventional resins used for CPET is in the range of 0.9. The Traytuf we use is in the range of 1.2 or 1.3. But with high-IV polyester, once it's gone through the extruder a few times, the IV drops. Once you lose IV, the material can no longer support foam. Now there's a lot of trim scrap in these kinds of round containers, so the ability to use trim scrap is critical. We found a way to reprocess our scrap that overcomes the problems of low IV. In fact, if we used one-hundred percent trim scrap, our IV is essentially the same as if virgin material were being used."
Bag for take-out chicken
Winning a DuPont Award for Bagcraft (Chicago, IL) was the Hot-N-Clear(TM) Window Bag (7), a leak-proof, fog-free window bag for rotisserie chicken sold in supermarkets. Positioned as an alternative to foil bags and domed bowls, the bag offers product visibility that foil can't and it occupies less space than rigid containers. "We can put two-hundred to two-hundred and fifty bags in the space it takes to store fifty bowls," says Bagcraft's Alden Cohen.
The structure used to make the bag is a two-layer adhesive lamination. One layer is a 50-ga DuPont Mylar polyester. The other layer consists of stain-resistant kraft paper that's pattern-laminated to PE-coated kraft. The pattern lamination creates small pockets of air that insulate the contents of the bag and keep the chicken warm.
According to Cohen, the Mylar polyester is what makes the bag leak-proof. "Water and juice from the chicken can always make it through the conventional adhesive seal of most bags," says Cohen. "But Mylar is heat-sealable. When we make the bag we heat-seal the bottom with a clamp all the way across the bottom. Then we fold it up twice and glue it."
Companies in this article