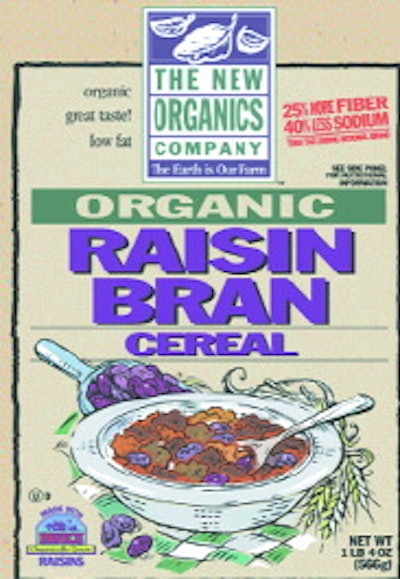 Visitors to the Food Marketing Institute show in Chicago, May 2 to 4, couldn't help but catch the wave of packages promoting health-conscious foods. These included Kellogg's new Ensemble(TM) line with graphics touting its cholesterol-fighting foods, a colorful redesign for The New Organics' packages expected to hit store shelves this fall, as well as several packs of fresh-cut produce.
In this report, Packaging World looks at some of the food and beverage containers, health-oriented or otherwise, that contributed to the wave at FMI's 1999 Supermarket Industry Convention and Educational Exposition.
Triarc Beverage Corp. was especially notable, displaying several new brands with striking bottles and labels. Its Snapple Elements line, for example, uses a custom glass bottle and biaxially oriented polypropylene label with transparent ink that matches the color of the beverage (see PW, June '99, pg. 2, or packworld.com/go/elements). As the contents are drained from the bottle, striking label graphics become visible.
White Plains, NY-based Triarc also introduced Hydro(TM), Sun Tea, Mistic® Sun Valley Squeeze(TM) and Mistic Italian Ice Smoothies beverages at the show.
For its first proprietary hot-filled polyethylene terephthalate bottle (above right), Triarc faced a considerable challenge. The bottles for Hydro "all-natural thirst quencher" and Sun Tea require recessed vacuum panels to prevent bottle collapse during the fill, but Triarc also wanted the panels to serve as a decorative element. The panels were angled to create a more esthetic look, and they were positioned on the bottom half of the bottle. A label is applied around the bottle's top half.
Mary Ellen Reis, vice president of packaging for Triarc, worked on Hydro and Sun Tea's package development for a full year. The eye-catching design for the 20-oz bottle comes from Kornick & Lindsay (Chicago, IL).
Initially, Reis says, many blow-molders rejected the project, saying that Kornick & Lindsay's design couldn't be achieved. Graham Packaging (York, PA), however, stepped up to the plate. "In most hot-fill bottle designs, functionality is the first concern," says Roger Prevot, senior vice president and general manager at Graham. "But in this project, the dominant force was esthetics."
Vacuum panels are usually positioned vertically on a bottle, with the parting line running along areas void of such panels. But because of the angled design, the parting lines had to run directly through the vacuum panels. Reis says the key to making the design work was Graham distributing the plastic correctly in the preform to avoid problems during the injection/stretch blow-molding process.
Another problem with the panels: Reis wanted them to be small to leave room for the label on the top half of the bottle. But in order for the panels to function properly during hot-filling, they had to be fairly large and preferably vertical. "The body portion of the bottle with the panels is much smaller than your typical hot-fill bottle like Gatorade," Prevot says. "R&D was testing and revising and testing and revising different geometries of the panels so that they look great and also work."
Reis was dead-set against a label covering the vacuum panels because "they make an unpleasant sound when you grip [the bottle]. Plus, it wouldn't provide good shelf presence with the label on the lower-third of the bottle," she says. Reis worked with Mobil Chemical Co. (Pittsford, NY) to find a substrate that could be labeled from rollstock and keep up with the fast hot-filling speeds. Reis says she rejected a sleeve of polyvinyl chloride because it was too costly and the labelers wouldn't provide the required speed.
Mobil's Label-Lyte® BOPP film did the trick. Mobil laminates two layers of the 1.2-mil film together to create the quality appearance sought by Snapple. Salem Label (Salem, OH) flexo-prints the film in six colors and sends it to Snapple's various co-packers across the U.S. The bottle's 48-mm neck diameter is topped with a white injection-molded PP closure from White Cap (Downers Grove, IL).
Triarc wanted to make a splash with the Hydro bottle. "We talked to a lot of consumers about what Snapple should be like in a plastic package," says Neil Kimberley, Snapple brand director. "We tried to find a fluid that would fit the package. [Hydro] is a lighter-tasting fruit drink," which Snapple believes is appropriate for the bottle.
Hydro and Sun Tea retail between 99¢ and $1.19 and will be rolled out nationally throughout the summer. Sun Tea was first available on May 16, when New York's Yankee Stadium hosted "Snapple Sun Tea Day."
Other Triac launches
Another Triarc launch was Mistic Sun Valley Squeeze (left), a vitamin-enriched fruit drink with a striking full-body label. As with Hydro and Sun Tea, Sun Valley Squeeze's bottle is PET and holds 20 oz. Unlike those bottles, however, the Sun Valley bottle is somewhat hourglass-shaped, and it's not hot-filled. It's injection/stretch blow-molded by Plastipak (Plymouth, MI) and CNC Containers (Tumwater, WA).
"Our research shows that excellent distribution opportunities exist for Sun Valley Squeeze," says Matt Sawyer, vice president of marketing for Mistic. "Twenty-ounce plastic products, which account for 10 percent of total volume, are underdeveloped in all channels. According to AC Nielsen, 20-ounce plastic is outperforming the alternative beverage category with 38 percent growth."
The cold-filled bottle also takes the same label as Hydro, a 1.2-mil BOPP structure from Mobil, but on the Sun Valley Squeeze it's a full-body shrink sleeve. Reis says she wanted a full-body sleeve because it gives the bottle a proprietary look. Salem Label flexo-prints the label in six colors. The closure is 38-mm injection-molded black PP from Alcoa Systems Intl. (Philadelphia, PA). On the market nationwide since May, the beverage retails between 99¢ and $1.29.
Triarc's Italian Ice Smoothies bottle (above right) from Mistic is designed to look like a scoop of Italian ice in a cup. The Coleman Group LLC (New York, NY) developed the innovative design of the press-and-blow glass bottle from Anchor Glass (Tampa, FL). Reis says glass provides shelf stability for this hot-filled 12-oz milk-based beverage.
Spear (Mason, OH) prints the clear PP label in a combination rotary screen and rotary letterpress in seven colors. The pressure-sensitive label is 2-mils thick. The bottles are prelabeled by Anchor prior to filling. The metal lug cap is supplied by White Cap and Silgan Container Corp. (Woodland Hills, CA). Italian Ice Smoothies have been on the market since April and retail for $1.19 to $1.39.
Despite the strong presence of health-related foods, some FMI exhibitors showcased foods aimed at satisfying the occasional indulgence. A good example was Sara Lee Bakery. The Chicago-based company introduced two single-serve items at FMI, Cheesecake Bites and Cheesecake Singles (below).
Richard Boos, Sara Lee's packaging manager, says Bites and Singles were the company's first products to develop this theme. "Our packaging graphics aim to support the theme," he says. "And we're very pleased with the package."
The individually packaged Bites are available in three varieties, with each Bite weighing less than 1 oz. Bites are wrapped in a 1.7-mil, two-layer lamination of metallized OPP and OPP. The metallized outer layer is flexo-printed in four colors by CSD, a division of Pac One (Minnetonka, MN). The wrapped Bites are packaged in 10-count quantities, in a 20-pt solid bleached sulfate rectangular folding carton printed offset in six colors by Malnove (Omaha, NE).
Sara Lee's Singles are individually packaged cheesecake slices, available in three flavors. The approximately 3.5-oz Singles come in a 15-mil PVC, custom-thermoformed tray from MAP Systems (Des Plaines, IL). Trays are topped with a 75-ga polyester lidstock from DuPont (Wilmington, DE). Clear Lam (Elk Grove Village, IL) prints the lidstock with Sara Lee's logo. Two thermoformed Singles packs are sold in a square 18-pt solid unbleached sulfate carton. Like the Bites, the Singles carton is also offset-printed in six colors by Malnove.
The national roll-out of Sara Lee's Bites and Singles started in February, after successful testing in Chicago and San Francisco.
Pouch for pancake mix
While not aimed at consumer indulgence, Mrs. Butterworth's and Log Cabin pancake mixes (below) also stood out at FMI thanks to their new packaging. They are the first nationally branded pancake mixes packaged in stand-up resealable pouches, according to Ed Yuhas, general manager of Aurora Foods' Breakfast Div.
In January, the Columbus, OH, company began test marketing the pouched mixes as an addition to its traditional bag-in-box cartons in an effort to enhance consumer convenience and boost sales. "We are a distant third or fourth in the pancake mix category," Yuhas says. "The market leader is six times bigger than we are. We felt the old paperboard box wasn't making a difference."
Yuhas says consumers were asked how they would make the pancake mix differently or better, and the responses always referred to packaging. "They said the paperboard box is okay, but for those who seldom use the product, there seemed to be a problem with staleness. This resealable package provides a fool-proof safety seal against [that] problem," he says.
Both BIB and pouch graphics were redesigned by Gammon Ragonesi (New York, NY) about eight months ago. The previous graphics had an illustration of a farm scene that Yuhas says was "static and cold." The new graphics of a "hot, griddle breakfast is warm, it's emotional. There's a nurturing aspect to it," he says.
The pouch construction incorporates 48-ga polyester laminated to 0.00035" foil and a 3-mil inner sealant layer. The polyester is flexo-printed in eight colors by Printpack (Atlanta, GA). Jianas Brothers (Kansas City, MO) fills the pouches for Aurora Foods on a Klockner Bartelt (Sarasota, FL) RPM 725 horizontal form/fill/seal machine. The resealable zipper material from MiniGrip/Zip-Pak (Manteno, IL) is applied in-line.
Yuhas admits venturing into stand-up pouches is costly, but he says Aurora Foods will earn more sales revenue that will make up for the new pack's higher cost. "We have nowhere to go but up," he says. The 11/2 lb mix retails for $1.99.
If test-market sales of the pouch are equal to or better than the BIB configuration, the company will expand the pouches' availability, Yuhas says. He also says it is uncertain whether Aurora would phase out the BIB structure for the pancake mixes.
Tyson stands up for bagged chicken
Resealability is also a major concern for Springdale, AR-based Tyson's fully cooked chicken products (above). The company is capitalizing on what it says is a rapidly growing demand for frozen chicken with its Tyson Family Pack.
The Family Packs are sold in nine varieties, including crispy chicken strips, Italian-style chicken meatballs and buffalo-style chicken strips, all in resealable bags holding 28 to 32 oz of chicken. The bags are unusual in that they're gussetted, allowing retailers to stand them upright in the freezer case.
Jennifer Priebe, Tyson product manager, sees bags as a burgeoning method to package frozen chicken. She says the bags currently account for a small percentage of the fully cooked chicken category. "But it's up 10 percent from a year ago and represents a huge opportunity for growth," she says.
Tyson elected not to identify the bag's complete structure, but a spokesperson did say that it's made of 5-mil coextruded proprietary film and flexo-printed in eight colors. The film arrives in rollstock at three Tyson plants across the country where it runs on vertical f/f/s equipment. The resealable zipper material from Packaging Specialties (Fayetteville, AR) is applied to the bags in-line.
Tyson introduced the Family Pack in central and southern states in June and the western and eastern states this month. Bags retail for $5.99 to $8.99.
Produce packs abound
Like last year, fresh-cut produce made its presence known at FMI. Salinas, CA-based Tanimura & Antle introduced two new SaladTime® packaged salads (right). Rolled out nationally in May were Fresh Tomato Fiesta, a 14-oz salad, and Fresh Tomato Italiano, a 12-oz salad, each carrying a 16-day shelf life. What makes both unusual is that they each contain a separate plastic pouch from Cryovac (Duncan, SC) with fresh-cut, vine-ripened Roma tomatoes and dressing. The internal pouch is unprinted. The outer pouch is flexo-printed in eight colors.
According to Leonard Batti, Tanimura & Antle's vice president of product development, the entire tomato processing and packaging process is a challenge. Batti, however, would not describe the packaging challenges, nor divulge packaging material specs, citing competitive pressures. Separately, the Salinas company also displayed new graphics for its Cool Cuts(TM) snacks, which include fresh-cut produce and a dip. The packs also feature eight-color flexographic printing.
Ready Pac goes organic
Ready Pac Produce, Irwindale, CA, expanded its family of organic salads with the launch of four new varieties in late May: Country Garden, Harvest Crisp and Aspen salads, and Romaine Hearts.
Displayed at FMI, the 41/2- to 12-oz salads are packaged in materials ranging from a monolayer PP to multilayer coextruded or laminated bags in varying thicknesses. Shelf life is 14 days. Ready Pac would not divulge its bag materials or suppliers. Brian Zomorodi, director of technology at Ready Pac, says the material for the bags provides controlled oxygen transmission rates and anti-fog properties.
The bags are reverse-printed, either by flexography or gravure, in five to seven colors. The three salads are filled on vf/f/s machinery at the Irwindale facility. Romaine Hearts are manually packed into pre-made bags.
Available nationally, the Ready Pac products, priced from $1.99 to $3.99, are said to be selling well. "We've had success," says Zomorodi. "The graphics are excellent, and consumers have responded well to the products."
Organic redesign
At FMI, many companies marketed their foods as organic or functional. The New Organics Co., for example, offers 35 SKUs of organic products in recently redesigned packaging (above).
Braintree, MA-based New Organics defines "organic" as food products grown, harvested, distributed, stored, processed and packaged without the application of synthetically compounded fertilizers, herbicides, pesticides or growth regulators. From pretzels to pasta sauce, the natural ingredients in New Organics' products are better for the consumer and the environment, says the company.
The 2-year-old company tried to convey the message of pure, organic foods in its previous packaging (inset at top) that used line art for its labels, but the packs seemed to fade into the supermarkets' shelves, says Trish Saia, retail services manager at New Organics.
"We had hoped that when people looked at [the products] on the shelf, [they] would scream 'organic.' But they really didn't pop or stand out," she says.
Design firm Russell Inc. (Toronto, Ontario, Canada) encouraged New Organics to forgo its previous labels with drawings of food and move to color photography that dominates the package. "We found that photography will make the food look more fresh and appetizing," Saia says. "And it stands out better on the shelf." The only materials change was the pasta moving from a bag to a paperboard box. Saia says the bagged pasta lying flat on the shelf didn't display the New Organics label adequately.
The new design is going through the final phases of production and is scheduled to reach supermarket shelves by September. New Organics is available across the nation in 3ꯠ retail stores like Albertson's and Wal-Mart Supercenters.
'Ensemble' packaging
Kellogg's Ensemble Functional Foods subsidiary promotes its 22-product line of natural soluble fiber foods (above) as products that work to lower cholesterol. According to Stephen Benoit, president for the Battle Creek, MI, Kellogg's subsidiary, the line was introduced to grocery stores in spring. The products are sold in Illinois, Indiana, Michigan, Kentucky and parts of Ohio, with a nationwide launch expected later this year. All products are contract-packaged by various companies nationwide.
Benoit explains that the line's packaging graphics were orchestrated from the beginning to create a family look among the 22 products (in seven categories), which include frozen entrees, bread, dry pasta, cereal, potato crisps and frozen breakfast/dessert mini-loaves and cookies. The design was developed by Landor & Associates (San Francisco, CA). The same color scheme and design will be incorporated into packaging for Ensemble's expected introduction into eight foreign markets next year.
"There's nothing unique about the packaging materials, or the product shelf life," Benoit admits. "But what is unique is that the package design and product name were developed globally through extensive research. The Ensemble brand name is recognizable in English in those global markets." He says that Ensemble will be packaged by different companies in those markets, with informational copy printed in the local language.
Companies in this article