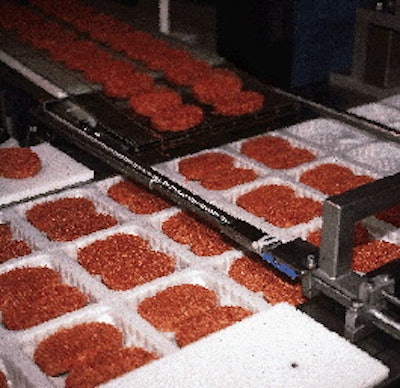 Case-ready meat packaging from centralized facilities is firmly established as a preferred method of supplying meat to the 900 or so supermarkets that make up the Migros chain in Switzerland. The company cites quality, appearance, consistency, reduced waste, and logistical and distribution advantages that come with extended shelf life as factors that led management to commit so heavily to case-ready packaging of meat.
Vacuum-packaging in barrier materials is the technology of choice for steaks, chops and roasts. The dark purple color that meat acquires when deprived of oxygen apparently doesn't bother consumers in Switzerland as it does in the U.S. Ground beef, however, is another story. Migros marketers are of the opinion that when ground beef is vacuum packaged, it looks crushed and unappealing.
So for ground beef, Migros prefers modified-atmosphere packages that are evacuated and back-flushed with gases. The six-day shelf life of this technology is shorter than the eight days achievable with vacuum packaging. But the bright red appearance of the meat, thanks to the high oxygen content of the gas-flush mixture that makes the meat "bloom," is something consumers really respond to, say the marketers.
"The quality and color of the [ground] meat is clearly best in these packages," says Hans Heinzelmann, head of meat marketing at Zurich-based Migros.
And cost? According to Heinzelmann, what the company gains in appearance, consistency and quality "is more important than the cost of the packaging." Suffice it to say the firm believes the technology yields acceptable profit margins.
Supply chain very different
Unlike supermarket chains in the U.S. that market meat from independent suppliers, Migros gets most of its meat from company-owned subsidiaries such as Micarna S.A. This slaughtering/processing/packaging house in Courtepin, Switzerland, supplies three of the 12 distribution centers serving Migros stores. All three are in the western half of the country, the farthest about 150 km (93 mi) away from Courtepin.
At Micarna's huge facility, the first MAP-style ground beef system to win acceptance was a vertical form/fill/seal machine that packs meat in flexible pouches (see sidebar). That system has been in production for about four years.
Shortly after the vf/f/s machine was installed, Micarna added a flow-wrap system for formed patties packed into preformed trays. But that system was replaced in late '97 by a Tiromat/ Powerpak thermoform/fill/seal system from Convenience Food Systems (Avon, MA). Measuring 16 m (52') from end to end, the Powerpak line includes tray thermoforming, loading stations, backflushing, lidding, weigh/price labeling and metal detection. It's also flexible, a critical requirement for a packer like Micarna, where it's not unusual to produce 20 different package configurations in an eight-hour shift.
This flexibility is a function of the machine's configuration. Two separate forming stations and two lidding stations make it easy to set up the next job before the current one is even done. And all set-up is handled at a touchscreen control panel.
"In both forming stations we can select at the control panel the depth of draw we wish," says Micarna packaging manager Pius Nietlispach. Trays can be as shallow as 40 mm (1.58") or as deep as 100 mm (3.95"). "It's quite a range. We use whatever we need for a particular order."
The orders come in once or twice daily from the three distribution centers that Micarna serves. Each center services about 40 supermarkets. Individual stores order each day by computer to the distribution center, which in turn sends the requirements for all 40 stores to Micarna that same day. By the next day, the distribution center has the shipment from Micarna and organizes each store's order of ground beef for delivery that day or the next.
Barrier materials
Packaging materials used by Micarna are supplied by Convenience Food Systems (CFS). Both forming and lidding webs incorporate barrier layers to keep oxygen out and back-flushed gases in. The TiroMap XPP forming web, with a total thickness of 1곚 microns (50 mils), is a foamed polypropylene/ethylene vinyl alcohol/polyethylene material produced in CFS's Romont, Switzerland, facility. It has an oxygen transmission rate of 2cc/sq m/24 hr.
The thermoformed tray retains the familiar look and feel of expanded polystyrene, the foam tray that consumers in many parts of the world are comfortable with. But according to CFS, it's a "greener" material because it requires less polymer than standard foam structures it has replaced in Europe, including EPS/EVOH/PE.
Like the forming web, the 64-micron (2.5-mil) lidding material used by Micarna also represents the latest in barrier packaging technology. It's a two-layer adhesive lamination of polyester and PE. But each substrate carries an important coating. In the case of the PE, an antifog coating prevents condensation from forming on the inside of the clear film. The polyester coating by Tetra Pak (Romont, Switzerland) is a high-barrier material called silicon oxide (SiOx), which is sometimes called "glass coating." Tetra Pak uses a system of chemical plasma deposition to apply the SiOx to the polyester. Then the material goes to CFS to be laminated to the PE. The finished material has an OTR of 1.5 cc/sq m/24 hr.
Since they burst on the scene a few years ago, SiOx coatings have attracted a lot of attention because they give flexible films barrier properties comparable to foil yet offer product visibility, too. But cost concerns have generally kept commercial applications of this technology to a minimum.
In Micarna's case, however, the materials used today are less expensive than the EPS foam tray and barrier lidding material used previously. The old trays were preformed, which always adds to the total cost of a material. And modified-atmosphere packaging of the preformed trays was done on a flow wrapper rather than a tf/f/s machine.
"With the flow wrapper, the film had to wrap completely around the tray and was sealed on the bottom," says Nietlispach. By comparison, the current system requires lidding material only on the top of the tray, a more economical use of film, says Nietlispach. He estimates the cost of packaging for a typical item is now in the range of 10 centimes (7¢). Formerly it was 15 centimes (10¢).
Nietlispach also appreciates the improvement in inventory control that comes with in-house thermoforming of trays.
"With roll-fed material that we form ourselves, we need far less room for storage," says Nietlispach. "A single roll 1ꯠ meters long lasts us two or three days."
Consumers like the new tray material, too, says Nietlispach, because it's so much lighter and more easily compacted than the EPS tray it replaced. That translates into savings because in Switzerland a household pays for its trash by weight. "For a family with two or three children, the new tray can bring a significant savings compared to the one we've replaced," says Nietlispach.
Sandwich preheater
Packaging begins with infeed of the forming web from its floor-mounted rollstand. Regardless of which forming station is in use, the material is preheated from top and bottom in a sandwich heater. Forming is next.
While in the forming station, holes are punched along the two sides of the foam sheet so that a gripper chain can pull the material through the fill/seal process. Forming is accomplished with plug assist and compressed air from above and vacuum from below. Cycle time depends on the item in production, but maximum speed is 10 cycles/min.
Depth of forming is easily changed at the touchscreen control panel. Through it the operator accesses an electrical motor that automatically causes the forming inserts to rise for a shallower package or sink for a deeper pack. If it's the package shape rather than depth that must be changed, the operator lifts the hood of the forming station and places a set of mold inserts in position. Micarna has three sets of inserts for the first forming station and three for the second.
Beef patties are formed and automatically deposited by a Provatec machine supplied by Azzar AG (Brunnen, Switzerland). It has a retractable feed conveyor that extends out over the newly formed trays. When a full complement of portions is in position over the trays, the feed conveyor retracts, thus dropping the patties directly into the trays.
The day Packaging World visited, trays were being formed six-up. Each was 3 cm (1.18") deep, and 150-g (5.3-oz) patties were being dropped two per tray. The feed conveyor's aim was impressive, too, though an occasional assist from the machine operator was required to settle a patty into its assigned cavity.
Overall labor required on the line is just two operators, and most of their efforts involve resettings at the touchscreen panels or replenishment/replacement of pressure-sensitive label stock. The other key task performed at the end of the line is loading of unit packs into plastic reusable trays that go into inventory briefly before being shipped out to Migros distribution centers.
Lidding station
As soon as the beef patties are settled in their trays, the trays enter the lidding station. Before lidding material is heat sealed to the tray stock, ambient atmosphere is evacuated and replaced with a mix of 70% oxygen, 18% carbon dioxide and 12% nitrogen. The oxygen causes the meat to bloom, carbon dioxide inhibits spoilage, and nitrogen is an inert gas that keeps the package from collapsing in on itself should some of the other two gases be absorbed into the tissue of the meat. Both evacuation and flushing are accomplished through one of the holes punched along the sides of the forming web.
Next in line is a pair of cutting stations where lidded trays are cut free from their continuous webs across the machine direction. The cutting tools also round off the corners so consumers' fingers won't be cut by a sharp-edged tray. Immediately after, the material is cut in the machine direction so that trays are now individual units. Also trimmed and wound are the outside edges of the forming web where the holes were punched for side-chain gripping.
P-s labeling is next, performed by a Tiro Label unit from CFS. It strokes forward and back to blow p-s labels onto the tray lids. With each cycle, a total of six trays are advanced. The Tiro Label blows three labels on the leading three packs, strokes forward to blow three more on the trailing three packs, and then waits until the three trailing packs of the next cycle are positioned beneath it. After labeling those three, it strokes back to its home position to blow labels on that cycle's three leading packs.
Label position can be changed at the labeler's touchscreen control panel. For example, on the day of PW's visit, unflavored beef was scheduled for production, and on these packs the labels were applied top center. When that run was finished, a very short run of just 30 kg (66 lb) of a flavored premium beef had to be packaged. So a new roll of labels was fed to the labeler and the label position was changed at the touchscreen panel. In minutes, the new label was being applied in a new position: the upper left corner.
As soon as labeling is finished, trays exit the Tiromat/Powerpak machine and a converging conveyor from Bizerba (Piscataway, NJ) puts the three-across trays into a single file. It accomplishes this with three conveyor segments, each moving faster than the one next to it. The tray on the fast track moves out ahead quickly and follows lane guides while its partners fall in behind it in a single file.
Once single-filed, trays pass over a p-s labeler that can spot-label a package with a "cents-off" label or some other promotional information. Then a weigh/price/label system from Leich & Mehl (Kernen, Germany) labels the trays. Each p-s price label is imprinted with three dates: the date of packaging, the sell-by date and the use-by date.
Finished packages pass through a Loma (Carol Stream, IL) metal detector that rejects any packs having metal in them. Finally, an operator places trays in a reusable plastic crate. These crates are loaded onto wheeled racks and taken for a brief stay in refrigerated inventory before being shipped out to a Migros distribution center. By the time the packs reach the refrigerated display case in the store, they have a solid five days during which they can be merchandised.
According to Heinzelmann, it's a meat-packaging formula that gives Migros a solid leg up on the competition.
Companies in this article