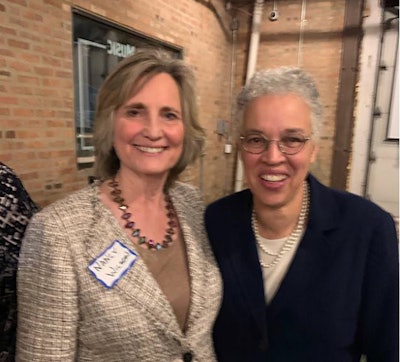 Launched as a vehicle of growth for the economy of the South Suburbs of Chicago, the Southland Development Authority is uniting community leaders to propel next-generation economic development in the area. This appointment for Wilson unites her company's dedication to innovation with her passion for future workforce development, allowing Wilson to work within the authority to develop ways to enrich the local economy and manufacturing industry through community partnerships and usher in a bright future for the local workforce and young leaders.
"Our community is stronger when local businesses and community leaders can come together to discuss problems and work together to great resolutions that will bring depth and success to our future," Wilson said. "When I was asked to join the board of this new initiative, I couldn't say no. We absolutely must embrace every opportunity to create positive change together in our world and provide ways for economic growth for our neighbors. The economic success of the Chicago Southland area is directly dependent on such change."
Wilson is energized by this new approach to problem solving in the South Suburbs. Through her work with the Calumet Manufacturing Industry Sector Partnership (CMISP), she works with local manufacturers and educators to solve manufacturing workforce needs. Now, within the Southland Development Authority, she will be able to work on a larger scale with her fellow members from 15 other businesses and community groups.
The nonprofit is aimed at placing a spotlight on the often-overlooked South Suburban economic center and the challenges businesses and residents face in the area. Wilson and the other board members will be working to address how to stimulate the economy by building mutually beneficial relationships between residents, businesses, and civic and philanthropic partners and promoting large scale investments needed to create this economic growth.
In addition to her position with the Southland Development Authority and work with CMISP, Wilson serves on the Board of PMMI (the Association of Packaging & Processing Technologies) where she also Chairs the Future Workforce Committee. Additionally, Wilson serves on the Chancellor's Advisory Committee for Purdue University Northwest. Her active commitment to all of these groups allows her to work for change in the manufacturing industry she believes will truly propel the Chicago Southland and country forward.
"Manufacturing is facing workforce challenges that are not going away," Wilson said. "I'm a staunch believer in the power of education and how this can solve our country's problems and leave the world a better place for our future leaders, and this extends directly into our workforce needs in the industry. There are strong career paths for those in manufacturing and if we can work within our community to present this positively, we will see positive economic return and provide successful careers for our students they can count on."
Modeled after similar organizations around the country, the Southland Development Authority is the first of its kind in Illinois. Supporting new property investments across the region, the authority is an intergovernmental entity designed to be financially self-supporting in the coming years.

Companies in this article
Videos from Morrison Container Handling Solutions