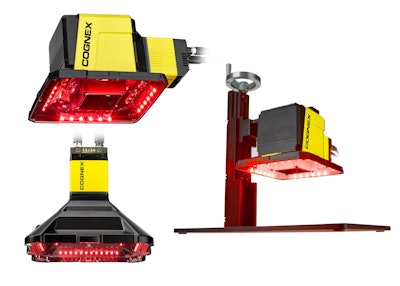 This content was written and submitted by the supplier. It has only been modified to comply with this publication's space and style.
Cognex's DataMan 475V inline verifier installs directly on production lines and provides real-time feedback for every code, enabling operators to quickly identify and correct quality issues before errors accumulate.
It looks at just a few code samples per batch. The system features the same sophisticated engine, integrated lighting, and software as the inline system along with an adjustable height stand. Parts and labels of different sizes and shapes can be quickly positioned under the verifier using the focus feedback tool built into the software. Easy-to-use visual cues alert users if the stand needs to be adjusted up or down, and ensures that the camera is properly focused with every part change.
All DataMan 475V systems feature intuitive and data rich visual diagnostics. For every code verified, detailed reports can be archived and easily retrieved to ensure traceability, statistical process control, and proof of code quality.
All systems are customized with integrated lighting that users choose depending on their application needs to help ensure the most reliable, repeatable results.
The DataMan 475V label system incorporates 45-degree multi-quadrant lighting for high accuracy verification of label-based codes. The DataMan 475V DPM model is equipped with 30S-, 30Q-, 30T-, 45-, and 90-degree integrated lighting options, which makes it possible for the system to verify both standard paper-based labels and the most challenging DPM codes without stopping production to add or change lighting.
The DataMan 475V-label inline verifier grades up to twenty 1D and 2D label-based barcodes/sec in accordance with ISO 15416 and 15415 standards.
The DataMan 475V-DPM inline verifier grades even the toughest DPM codes on textured, curved and highly reflective surfaces in accordance with ISO/IEC TR 29158.
The DataMan 475V-S offline models grade one code every four seconds in accordance with ISO 15416, 15415, and 29158 standards.
Companies in this article