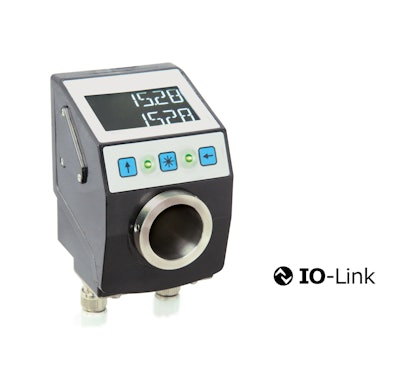 This content was written and submitted by the supplier. It has only been modified to comply with this publication's space and style.
When machine adjustments are needed due to a product change. Communication between the system controller and the AP10 position indicator ensures that product and size changeovers are safe, simple, accurate, and fast.
SIKO's AP10 electronic position indicator has a two-line backlit LCD that shows both the target and actual position values. The target value is sent from the controller and the actual position value returned to the controller. Once the position values match, the LED status lights change from red to green. This monitored process reduces machine set-up times, prevents incorrect settings which could lead to tool damage and/or excessive scrap.
The AP10's backlit LCD display enhances legibility even in low light areas. Additionally, the message can be inverted using the onboard programming keys making it possible to read messages normally from any mounting angle. The LCD is designed as a two-line six-digit 14-segment display. As a result, even long adjustment tracks can be displayed with precision. The 14-segment display also allows for the clear display of alphanumeric characters, simplifying: configuration, commissioning, and error diagnosis.
In addition to the directional arrows on the LCD display, the AP10, also provides clear visual user guidance via two bi-color status LEDs. These not only signal positional status (InPos or OutPos) but also indicate the required rotational direction to the target value: left LED Red – Counterclockwise rotation, right LED Red – Clockwise rotation.
The AP10 has a unique feature that we call "loop positioning". This setting allows the user to configure how the target position is approached. For systems where spindle backlash is an issue, the position value can be programmed to always be approached from the same direction, thereby eliminating any position errors caused by loose play in the spindle, greatly improving machine setup accuracy.
Just like all SIKO position indicators, the AP10 features a stainless-steel hollow shaft with available reducing sleeves and two torque pin positions to make assembly easy on most metric and imperial spindle sizes. This means that shafts with mechanical indicators, like the SIKO DA09S can be easily change to the AP10 without changing the machine design.
The AP10 comes in either IP53 or IP65 versions. The IP65 model is suitable for many applications in the food industry, beverage production, and/or pharmaceutical sector.

Companies in this article