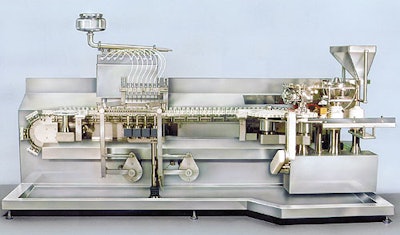 When engineers at Bosch Packaging (Minneapolis, MN) decided to update Bosch's FLM vial-filling and stoppering machine, they designed it from the ground up around servo technology from Elau (Chicago, IL). Released this spring at interpack, the FLM "third-generation" vial-filling machine now features faster changeover, enhanced diagnostics, fewer parts, and the ability to interface with a variety of customer networks.
"Typically in pharmaceutical equipment, the first reaction is to replace the traditional motors with a servo motor," says Dave Blauw, electrical engineering supervisor for Bosch Packaging. "But that's never worked very well. Servos are kind of a different animal. Because of the way they operate, the machine should be designed around them in order to really get the benefits of what they can do."
One of the biggest benefits is decreased downtime, evident not only through faster changeover, which is hours faster than the previous machine, according to Blauw, but also increased reliability. The servos provide extensive diagnostic information to enable operators to pinpoint problems more quickly.
"For example, if you have a problem with a bearing going out, you'll notice that you're using more and more torque out of the affected motor [before an actual failure occurs]," Blauw says.
According to Blauw, there are fewer mechanical parts on the redesigned machine overall—that means fewer points of failure.
Also important is the machine's ability to interface with a wide variety of customer networks. The controller and drives communicate via the SERCOS network protocol.
"As open as those platforms are presently today, Elau uses them and communicates very effectively," Blauw says of the networking protocols.
Scalability was also a factor in the decision to go with Elau. Although this machine uses 20 axes of motion, Blauw says, "Elau gives you the flexibility to go up to 99 axes, which we'll never hit. Very few people do. But it's good to know that we're not stuck with a controller than only controls 1 to 16, or 1 to 32."
Finally, Elau works exclusively in the packaging field, which, according to Blauw, made the company very attractive.
"Naturally, that made Elau a very high candidate," he concludes.
Companies in this article