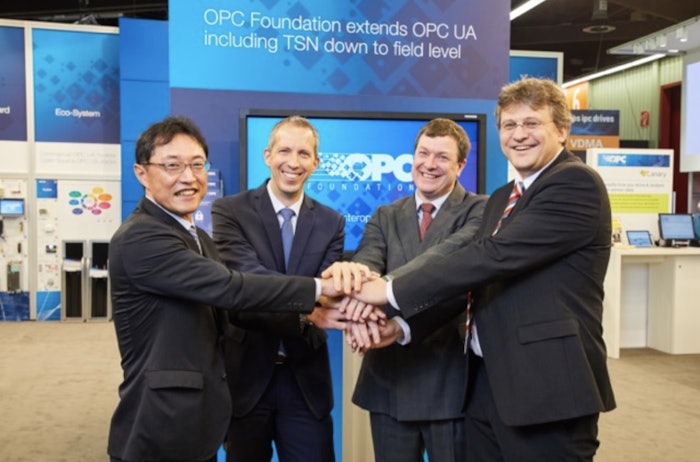 Automation World's Dave Greenfield attended the SPS/IPC/Drives event in Nuremberg in late 2018. Perhaps the biggest industrial networking news there, according to him, came from the OPC Foundation with its announcement that work will begin in early 2019 on its "OPC UA including TSN down to the field level" initiative. This may not immediately affect how packaging machines are being built, but it signals that change may be coming in the next few years. 
Disruptive potential of TSN
TSN is all about guaranteeing control network traffic is not delayed by other traffic on an Ethernet network. The lack of determinism on standard Ethernet is what led to the development of the various Ethernet versions of the fieldbus protocols (e.g., Profinet, CC-Link IE, EtherNet/IP, etc). The promise of TSN means standard Ethernet (not just the fieldbus protocol versions) could be used in industrial applications where determinism is important, e.g., motion control.
Motion control is the application where the rubber will hit the road for TSN in packaging IMO —as motion control is critical to both direct packaging operations and robotics in picking/placing applications.
One thing for packaging machinery builders and packaging machinery end users, to note: TSN is really new. The very first devices that enable TSN for industrial use are just coming to market this year. So there's not much to point to with re. to real world applications yet – just the testbeds that have been repeatedly proving out TSN's capabilities over the past few years. The newness of this technology means that it is not something most packaging systems will start featuring very soon. But the capabilities it enables means it is something packaging OEMs and end user brands and CPGs need to be paying attention to now and planning for. According to Greenfield, if TSN does what it says it does, it's going to dramatically change industrial networking – not in the near term because of the installed base, but definitely over the next 5-10 years.
Packaging machinery builders will want to key in on TSN in the application around motion control in terms of determinism via standard Ethernet. This will lower costs for packaging machinery OEMs and end users in the long run and ease the process of data transfer between devices and systems – because everything can be on standard Ethernet.
Rollout timeline
Stefan Hoppe, president of the OPC Foundation, said initial work will focus on the core functionality of field device communications to develop an OPC UA architecture and general model for devices that can be adopted—as easily as possible—by automation suppliers. This architecture and general model will then be expanded upon with specific, device-type functionalities by specialist working groups.
Matthias Damm, founder and executive director of ascolab (consulting and service provider for OPC UA), noted that the publish/subscribe method of communication—rather than the client/server method—will be used for controller-to-controller and field-level communications in this initiative. "Some work will need to be done here to handle different requirements [of the varying devices]," he said, "but acyclic communications are needed for use with controllers and field devices" and that's why the publish/subscribe method will be used.
The first use cases prioritized for development in this initiative are multi-vendor controller-to-controller integration, and vertical communication from field device to upper level systems.
Big players on board
Beyond the technical aspects of interest in this announcement, the amount and size of the "committed contributors" to this effort is substantial—and a little surprising considering the history of competitive, proprietary communication standards that exist between some of the participants. These contributors include: ABB, Beckhoff, Bosch-Rexroth, B&R, Cisco, Hilscher, Hirschmann, Huawei, Intel, Kalycito, Kuka, Mitsubishi Electric, Molex, Omron, Phoenix Contact, Pilz, Rockwell Automation, Schneider Electric, Siemens, TTTech, Wago, and Yokogawa.
At the press conference, a good bit of attention was given to the fact that three of the largest automation technology suppliers—Mitsubishi Electric, Rockwell Automation and Siemens—whose products and approach to networking will be most affected by the results of this initiative, made their support and collaboration very visible. The impact of having these three competitors work together on the development of an open standard for data communication from the field level to the enterprise generated some interesting comments.
"This is a relief," said Bernhard Eschermann, divisional CTO at ABB, "because we've been one of the companies caught up in having to support all these different communication standards."
Heinrich Munz, lead architect for Industry 4.0 at Kuka, said, "The hell of having to deal with all the different standards over the past 30 years has cost us so much. I'm overwhelmed to see this."
Portions of this article were originally published in Automation World in Dave Greenfield's column: 2019: The Year of the Industrial Network Protocol. The advent of TSN and the apparent OPC UA adoption of the largest controls manufacturers is of particular interest to packaging machinery manufacturers and brands using this equipment.