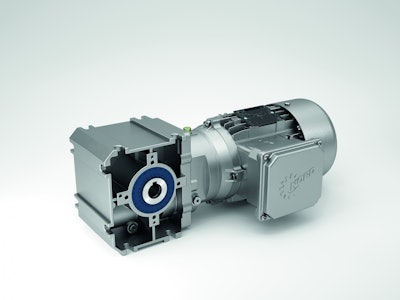 Unit is made from high-strength aluminium alloy. This one-piece die-cast aluminium UNICASE™ housing provides maximum strength and rigidity with low weight. In addition, a new universal mounting design offers significant customer advantages.
Jim Alt, Mechanical Product Manager at Nord, said the SK 02040.1 design is a money saver. He explained, "The Nord gear unit provides nearly 900 lb-in of torque – which is ideal for countless conveyor and manufacturing applications. It can be quickly installed and offers a smart universal foot / flange housing, and accessories for foot, flange or torque arm mounting. Plus, the aluminium is more than 30 percent lighter than cast iron."
Alt added, "By using aluminium, the Nord SK 02040.1 helical worm gear unit is priced significantly below the product it's replacing – and we expect customers could see double-digit savings compared to competitive products." The gear unit can also be ordered with Nord's nsd tupH™ sealed surface conversion process, which provides comparable benefits of stainless steel at a 30-50% cost savings.
The wide range of speed ratios (5.3:1 to 330:1) enables optimum adaptation to the customer's requirements.
All Nord helical worm products are available with solid, keyed or keyless hollow bores. The SK 02040.1 geared unit also offers input options to a variety of motors, including direct mounting, NEMA and IEC. The new SK 02040.1 unit is a drop-in replacement to the previous SK 02040 cast iron product.
Companies in this article