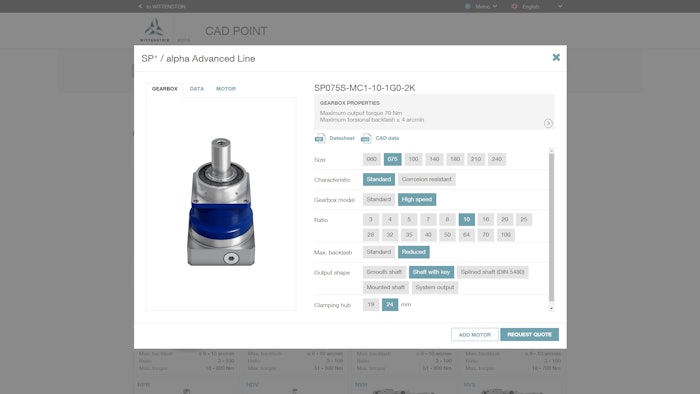 This online "smart catalog" features the entire product portfolio for WITTENSTEIN gearboxes and actuators, in conjunction with a database of more than 16,000 motors. CAD POINT makes it easy for users to compare products, then download data sheets, generate CADs and request pricing – all with a few clicks.
Users may search by product type or specific ordering code. Once users have found the product they are looking for, they can finish the selection process by requesting a non-binding quote.
CAD POINT supersedes the old Info & CAD Finder, achieving the same results in half the time. By linking databases for gearboxes, motors and actuators combined with the enhanced user interface make it even easier to find CAD data, product information, data sheets and quotes.
Users can begin with a known gearbox type or a preferred size, and then compare it with different gearbox and drive configurations. Once selected, the characteristics are subsequently remembered throughout the configuration process, even after switching to a different size. This makes comparing several possible alternatives simple and fast.
To expedite results even further, users can enter a specific product ordering code. CAD POINT automatically validates the entered code to eliminate data entry errors, and then generates the specific results.
CAD POINT is the latest enhancement in the robust portfolio of sizing tools from Wittenstein. There are three distinct tools:
CAD POINT is mainly targeted at customers who already use drive solutions from Wittenstein alpha, are familiar with the applications and benefits and would like to compare configurations or retrieve CAD data just a few clicks.
SIZING ASSISTANT is designed for users searching for the quickest way to select the most suitable gearbox for their servo drives or kinematics based on a specific motor or a predefined application.
cymex® 5 sizing software is used for more detailed sizing tasks, like main axes involving shaft and bearing calculations, the simultaneous definition of any number of axes in one project, an examination of electrically preloaded drives or the optimization of design spaces. Available as a free download with license registration, cymex® 5 is the optimal multifunctional sizing tool.
Companies in this article