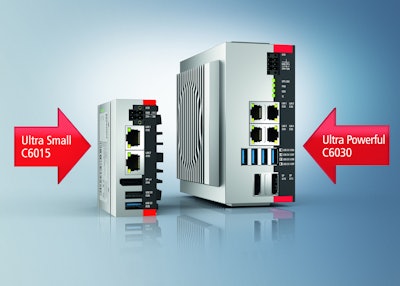 The new C6030 IPC offers the advantages of dramatically reduced space requirements, universal applicability, and easy installation—now also available for complex automation applications with the highest performance requirements.
This newmulti-corecomputer, with a size of only 132x132x67mm, integrates IntelCore i-series processors of the 6thand 7thGeneration to provide maximum performance with up to 3.6GHz percore. Also, the ultra-compact C6030 IPC is only half the size of the closest comparable control cabinet PC, the C6930, yet it offers more interfaces even in its basic configuration. Depending on the included features, the C6030 IPC even offers price savings of up to 34% when compared with IPCs in the C69xxseries.
This means that enormous computing power and a comprehensive range of features is available in the affordable C6030. The C6030 is able to accommodate almost any automation and visualization task, including highly complex axis control, demanding HMI applications, large-volume data handling and applications with extremely short cycle times. The onboard Ethernet adapter with four 100/1000Base-T connectors, four USB3.0 ports and two DisplayPort connectors make the C6030 ideal for networking, high-performance Ethernet-based controltasks and vision systems.
As the newest addition to the ultra-compact Industrial PC series from Beckhoff, the new C6030 also proves to be extremely flexible in terms of installation. It can be attached at the back or side panel, vertically or horizontally as required, with free orientation of the connector level. This permits a wide variety of installation scenarios and efficient cable management, even in extremely confined spaces.
Companies in this article