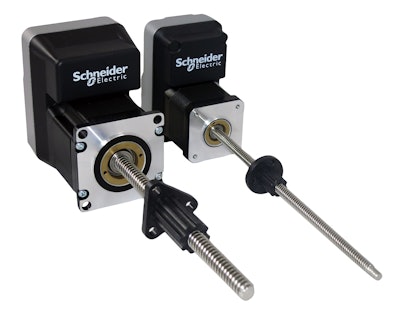 These compact motion products integrate robust motor, electronics and linear mechanicals, providing machine builders with solutions that can reduce their system cost, design and assembly time.
LMD linear actuators integrate NEMA size 17 and 23 1.8 deg. 2-phase stepper motors with an external threaded lead screw. This screw is integral to the motor's rotor, rotating to move a nut attached to a load axially along the threaded shaft. A wide range of lead screw options are offered as standard, with custom solutions also available.
Integrated LMD linear products may include fully programmable motion controllers, encoders and closed-loop performance. Available communication protocols include EtherNet/IP, Profinet, ModbusTCP, CANopen, and serial RS-422/485.
Companies in this article