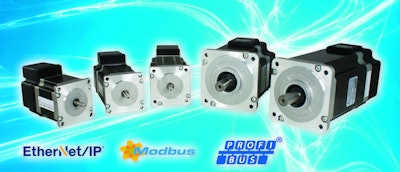 The SMD Series offers many sophisticated features at a low price point, and integration eliminates the need to purchase multiple components. AMCI's SMD Series integrated solutions are ideal for new machinery and retrofits when looking to automate set up axes. Applications that benefit from the SMD Series "all-in-one" integrated solution include those looking to automate set-up axes and boost production output (example: packaging machine changeovers).
AMCI's SMD Series integrated stepper motors offer a wide variety of options for exceptional performance across a range of applications. With the addition of NEMA size 34 packages, options now include NEMA size 23, NEMA size 24, and NEMA size 34, with torque ranging from 130 oz-in (0.9 N-m) to 850 oz-in (6.0 N-m).
Features of AMCI's SMD Series include built-in network connectivity, EtherNet/IP, Modbus-TCP, or Profibus, built-in Ethernet switch, SynchroStep technology, optional integrated encoder (incremental or multi-turn absolute), IP67 rated versions, gearboxes, and compatible cord sets.
Companies in this article
Videos from Advanced Micro Controls Inc. (AMCI)