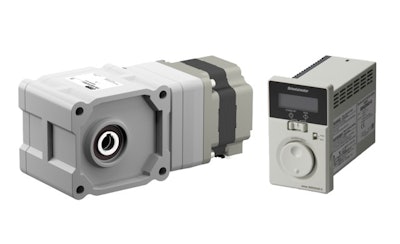 The right-angle hollow shaft hypoid JH gear achieves IP66 class protection through the use of a stainless steel shaft, oil ring, oil seal and new motor connector type. Thus the maximum output torque is available at each gear ratio.
The BMU series brushless DC motor speed control system offers a maximum speed of up to 3,600 r/min (80 to 3,600 r/min). Speed ratio of 1:45 is achieved. This allows for a wider speed range, wider selection of gear ratios and torque ranges, making the BMU Series an ideal alternative for servo, brushed motors or AC three-phase Inverter driven applications.
Brushless DC motors compare the setting speed with the speed feedback signals from the motor at all times and adjust the motor's applied voltage. For this reason, even if the load changes, stable rotation is performed from low speed to high speed. Unlike three-phase inverter driven motors, the torque at low speed is not limited, so brushless DC motors are suited for applications that require constant torque from low speed to high speed. Using brushless DC motors can also contribute to long lasting, maintenance free solutions, downsizing and space saving and overall energy savings.
Companies in this article