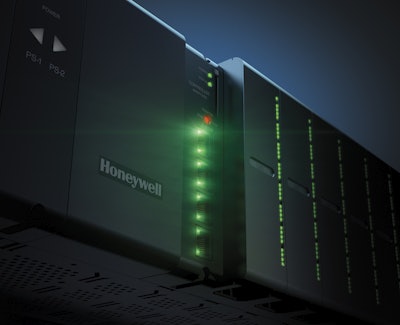 Honeywell Process Solutions' ControlEdge™ Programmable Logic Controller (PLC) is a new addition to Honeywell's next-generation family of controllers leveraging the power of the Industrial Internet of Things (IIoT).
ControlEdge PLC combined with Honeywell's Experion® Process Knowledge System (PKS), provides secure connectivity and tight integration to devices from multiple vendors, with easy configuration, efficient operations and reduced maintenance. ControlEdge PLC uses OPC UA protocol and built-in cyber security for smooth integration to a range of instruments, equipment and software from multiple vendors. ControlEdge PLC offers Universal I/O, providing remote configuration and late design change flexibility for improved project implementation.
Designed to be a superior offering with any process or SCADA system, ControlEdge PLC delivers a unique integration capability when combined with Experion PKS by leveraging Universal I/O technology and Honeywell's LEAP™ project execution methodology.
Projects that combine both Experion and ControlEdge PLC can benefit from substantially reduced project risk, eliminate the impact of late I/O changes, and simplify project execution.
With Honeywell's distributed control systems (DCS) and PLC, it simplifies process operations by providing equipment with common lifecycle and a highly reliable integration connection versus a custom interface. This integrated offering provides lifecycle cost savings, less engineering and higher reliability.
ControlEdge PLC is focused on process industries requiring discrete control for specific PLC applications. The PLC will be offered to end users, original equipment manufacturers (OEMs), and engineering, procurement and construction (EPC) companies.
The emergence of the IIoT represents a digital transformation of manufacturing that shifts the source of competitive advantage away from physical machinery and toward information. Built on a proven and capable platform, ControlEdge provides an IIoT-ready open platform that enables users to better leverage data across their assets.
Honeywell's IIoT portfolio of technologies help manufacturers leverage data to operate their plants more safely and efficiently. Honeywell's IIoT product help reduce unplanned downtime and off-spec products by building IIoT ecosystems that leverage data, advanced analytics and deep domain knowledge.
Companies in this article