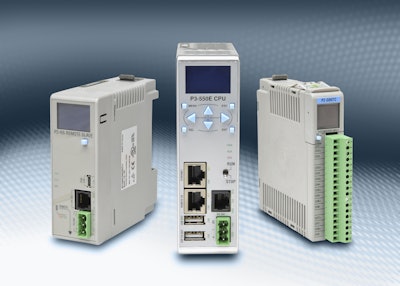 For the Productivity3000 series, the P3-550E high-performance CPU is equipped with multiple communications ports, including two USB, two Ethernet, one RS-232 and one RS-485. The system can be expanded with the P3-RS, P3-RX or P3-EX modules and local, expansion, and remote I/O are assigned preconfigured or user-defined tagnames which can be easily referenced in the ladder logic program. Priced at $499.00, the P3-550E CPU also features 50MB user memory and incorporates a 4-line x 10-character LCD display for system alarms and information or for displaying user-defined messages.
Added to the Productivity2000 series, the P2-RS remote slave expansion module is priced at $225.00. The P2-RS is a full-featured, high-performance module equipped with an RJ45 Ethernet remote I/O port and two communications ports which support serial devices, as well as an additional Micro USB IN (type B) port for remote CPU programming and monitoring. The P2-RS also includes a 4 line x 10 character backlit OLED display. Using up to eight expansion modules in remote I/O bases allows a Productivity2000 system to be expanded to over 4,000 I/O. Also added to the Productivity2000 series is the $265.00 P2-08NTC thermistor module. This 16-bit thermistor analog input module provides eight single-ended temperature-only input channels and has a temperature range of minus 40 degrees to 302 degrees F.
New features added to the Productivity Suite programming software include: viewable bit-of-word elements in the tag database, comments for bit-of-word and array elements, import of nicknames from DirectSOFT and CLICK PLC projects, install updates for Windows10, and more; the user-friendly Productivity Suite software is available as a free download.
To learn more about Productivity series products, visit: www.automationdirect.com/productivity.
Companies in this article