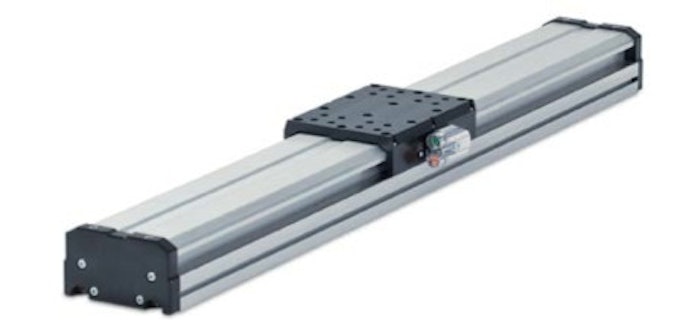 An extension of its HN series, the highly-integrated and ready-for-installation HG series uses compact and precise ball-type linear guides that feature an absolute measuring system as well as automatic lubrication. Both the HG 25 and HG 12 provide smooth movements and maximum dynamics.
The lightweight, aluminum profile-based HG axes can also be used in areas where cost factors have typically made conventional drives the standard choice in the past. Specifically, they are designed for lighter load applications−with the HG 25 & HG 12 offering 10kg and 5kg maximum load capacities respectively. Ultimately, they are said to deliver high-speed and accuracy at a lower cost−with a maximum acceleration of 40 m/s2 and a maximum speed of 4 m/s.
Typical small parts assembly applications that would benefit from the HG series include: electronics, flat panel displays, semiconductors, machine tools, material handling, medical, packaging, and more.
The HG Series axes features: freely positionable, extremely dynamic, monitored movement; no maintenance costs, no wearing parts; hygienic linear drive/no pneumatics, no oil, no gearbox; low energy costs, compact design; convincing price-quality ratio (particularly in the case of HG axes); HG axes with covered guide profile with standard attachment options; absolute measuring system (up to 1,000 mm).
Companies in this article