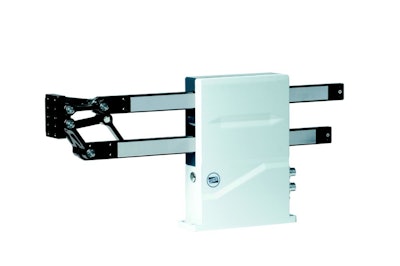 Despite its uniquely compact design, it surpasses all previous Pick-and-Place units when it comes to speed−achieving over 100 cycles per minute with repeat accuracy of 0.01mm.
Key to the HP70's design, is a new drive concept that works with two linear motor axes that feature a unique 'knuckle' design on the y/z axis that virtually eliminates the need for another linear motor for the z axis. Essentially, two horizontal axes with 125, 225, or 325mm stroke length are arranged in parallel above one another, and then connected via a kinematic unit. This guarantees a vertical stroke of 70mm.
Unlike most other units, the HP70's two axes do not run vertically towards one another. If a unit has one horizontal axis and one vertical axis fitted next to one another, it becomes wider. However, by arranging the horizontal axes in parallel above one another− a more compact unit is achieved.
Alongside its extremely compact dimensions, the HP70 also impresses with other characteristics. Whereas other devices must start and stop two axes each time, the HP70 only brakes on one axis when transitioning from full-speed horizontal movement to vertical movement. The time-consuming start of a second axis is then completely eliminated. This allows the module to achieve over 100 cycles per minute with repeat accuracy of 0.01mm.
Advantages
Given these distinct design advancements, the customer's end-use advantages are clear and simple. The same machining processes are handled in a smaller area and the floor space savings are immense−as twice the number of work stations can be set up on the exact same rotary indexing table or linear assembly system.
Concurrently, output enjoys a dramatic boost as the transport times from one processing station to the next are reduced. In many cases, the optimization potential can reach as much as 50%.
The design also offers another key performance benefit, as both motors are encapsulated in fixed casings. With the obvious exception of the grippers, no moving cables are required either outside or inside the housing.
The process for changing and retrofitting components has also been simplified, as customers can now easily fit additional valves themselves – while the device remains in the installation. The fast and convenient procedure for setting up motion sequences has also been carried over from previous models.
Additionally, the new unit is even more user-friendly, as the manual teaching of positions has been further simplified. The module can be moved freely and have its respective position saved by the WEISS Application Software (WAS) at the push of a button. Utilized for fast, convenient, and secure commissioning of all freely programmable WEISS components, WAS features a highly intuitive and uniform graphic user interface.
Conclusion
The introduction of the revolutionary HP70 represents the pinnacle of Pick-and-Place technology, as the series offers new possiblities for market applications such as: packaging, small parts assembly, automotive supply, cleanroom, batteries, switches/sockets, etc.

The HP70's end result is a unique, robust design that offers all the advantages of a direct drive including: dynamic performance, free programmability, very low wear, extreme precision, and very compact dimensions.
According to WEISS' Product Sales Manager-Direct Drives, Josh Treter, "During its development, great emphasis was placed on ensuring the module's compact dimensions. The result of these efforts is that the HP70 takes up less space than any other Pick-and-Place unit. At just 60mm wide, the slimline configuration eliminates the size advantage previously enjoyed by a pneumatic modules' design. Also, conventional direct-drive modules cannot compete in this respect either – since they are significantly wider."
Treter also noted, "The original inspiration for this new development came from practical applications in the field, with WEISS customers being responsible for improvement proposals to a certain degree. With the new system, you can now set up twice the number of workstations on the identical rotary indexing table or linear assembly system."
Finally, in all phases of the manufacturing process, particular emphasis was placed on consistent cost optimization. The result is a cost savings of over 10%, which WEISS passes on directly to its customers. Combined with the significantly lower operating costs in comparison with pneumatic units (particularly when processing large quantities) and the lack of any maintenance costs−the compact HP70 powerhouse quickly pays for itself.

Companies in this article