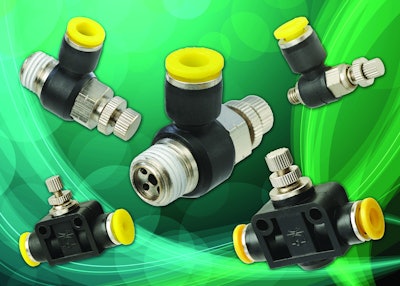 The PQ-C Elbow Controls are suitable for low-cost and lightweight applications when mounting directly to an NPT port on a cylinder or valve is required.
In the meter-out versions, intake air flows freely through the flow control; exhaust air is metered out through an adjustment screw. With the meter-in series, air is metered in through an adjustment screw; exhaust air flows freely. Control is varied through a finely threaded adjustment screw.  A locking nut is provided so it can be secured in its final setting.
The series is available in more than 25 different models: #10-32, 1/8-in. NPT, ¼-in. NPT, and 3/8-in. NPT.  The control valves deliver design flexibility and fast response, and complete rotation of the valve body around the bolt provides optimum positioning of tubing. The special adjustment needle design allows large adjustment ranges with high precision.  Suitable for use with polyurethane, nylon, polyethylene, and polypropylene tubing.
For more information visit:  http://www.clippard.com/link/pwld1293901
Companies in this article