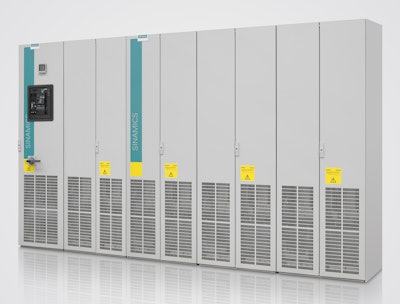 Siemens announces a new version of its popular Sinamics S120 Cabinet Module (CM) drive packages, compliant with North American standards and offered with optional UL/cUL listing. This unique product enables easy configuration of complex common DC bus lineups for multi-motor coordinated drive systems, as well as high horsepower (hp) stand-alone drives for a wide variety of industrial applications.
Key to the global growth of the Sinamics S120 CM range is its modularity and flexibility. Pre-designed, fully type-tested modules, including line side components, line infeeds (bus supplies) and motor inverters, all with a broad range of standard options, are selected and configured by the customer. Compared to the traditional approach of custom-engineered systems, this approach offers significant reduction in engineering and manufacturing lead times, which translates into reduced project costs and a compressed delivery schedule, while minimizing technical and commercial risk on even the most complex drive systems.
Individual cabinet modules from Siemens have a standardized power and control interface, which allows them to be freely positioned in a lineup that best suits the particular application and makes them easy to install and connect. The broad range of standard options including the DC bus current rating and enclosure type, for example, is available to tailor selections to best meet jobsite and environmental conditions. Despite standardization, this design offers a high degree of flexibility for both power and control circuits. For line side converters, there is a choice of non-regenerative Basic Line Module (diode rectifier) or fully regenerative Smart and Active Line Modules. Both of these are IGBT inverters, the Smart Line Module being a more basic six-pulse unit, while the Active Line Module offers low harmonics exceeding the demands of IEEE 519. Unity or controllable power factor and DC bus voltage control allows stable operation of motors even on irregular power supply systems. Basic and Smart Line Modules can also be configured in 12-, 18- or 24-pulse systems for low harmonic operation. All these configurations are now compliant with the National Electrical Code (NFPA 70) and Short Circuit Current Ratings per UL508A supplement SB, up to 100 kA.
The SINAMICS S120 firmware, combined with Drive-CLiQ (the flexible backplane bus), allows users to assign control units multiple Line and Motor Modules, plus mount the control units and associated I/O and sensor modules anywhere within the line-up or even remotely in a centralized control cabinet or control room. Drive-CLiQ provides automatic electronic nameplate, real-time control data transfer, diagnostic and parameter value gathering and fault tolerant transfer protocols. For external control systems, high-speed industrial Ethernet communications can be parameterized for EtherNet/IP, PROFINET or Sinamics Link (peer-to-peer), while programming can be done via a dedicated port or Ethernet TCP on the Ethernet network simultaneously with Profinet or EtherNet /IP.
Sinamics S120 Cabinet Modules were designed to address the need for a complete, ready-to-connect-and-run drive system that enables customers to configure an enclosed drive lineup with a central line infeed (rectifier) and common DC bus, supplying power to multiple motor modules (inverters). Typical uses for such systems requiring multi-motor coordinated drive systems include paper machines, steel rolling mills, test stands, cranes, mixers and oil/gas field equipment. Very high horsepower single drive applications also benefit from this Siemens system.
The use of a common DC bus configuration with these new drive packages allows energy exchange between motors that are simply powering and others regenerating power back to the AC system, which can save up to 80% of the energy consumed when using standard installations.

Companies in this article