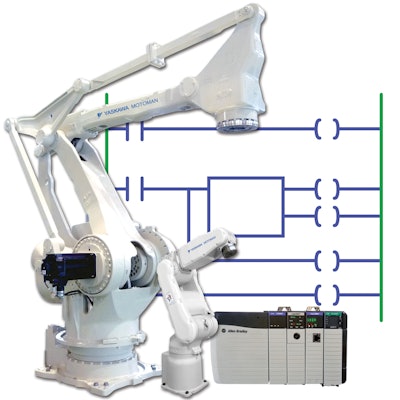 MLX100 enables controlling and programming of Motoman® robots entirely within the ControlLogix® platform*, eliminating the need for an additional controller or language for robotic application development.
MLX100 offers a seamless PLC and robot integration as robots are programmed through the same PLC ladder logic code that is widely used for controlling peripheral equipment such as filling machines, packaging machines and conveyors. This modular, unified control architecture promotes faster robotic application development in a familiar and maintenance-friendly environment.
A multitude of applications are possible on the MLX100 platform, including applications requiring vision guidance and line tracking: assembly, part transfer, picking, sorting, kitting, case packing, palletizing and de-palletizing. Select Motoman robots (4-7 axis; 5-300 kg payload) are available with the MLX100 Robot Gateway. Any combination of the available models can be used for dual-robot applications.
*ControlLogix is a trademark of Rockwell Automation, Inc.

Companies in this article