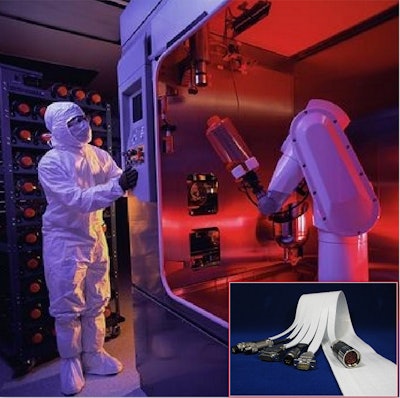 Unlike other types of cables, such as PVC, Polyurethane or PTFE, Cicoil's designs are non-contaminating and Class 1 Clean Room Rated for continuous motion applications.
Even under extensive tight bending and high speed flexing, Cicoil's exclusive crystal-clear silicone encapsulation will not wear, tear or deform during a lifetime of more than 10 million cycles. This unique silicone is "self-healing" from small punctures and will not degrade or delaminate when exposed to de-ionized water, alcohol, steam, UV light, autoclave, mechanical stress and many chemicals.
Cicoil's proprietary extrusion process allows multiple wires, power conductors, shielded signal pairs, video and coax conductors, tubing, and other design elements like Cicoil's patented StripMount™ fastening strip to be placed in a single flat cable, precisely controlling the inner component spacing, jacket thickness and the overall cable shape. Incorporating multiple elements into a single, compact flat cable allows for a tighter bend radius, weight/space savings, greater current carrying capacity, noise reduction and longer flex life.
Standard "off the shelf" cables are available from stock for immediate delivery and custom designs, including cable assemblies with connectors of your choice,100% tested and inspected, are also available with minimum lead times. In addition, Cicoil offers anti-friction coatings, static dissipative and custom shape designs by request.
Cicoil's Clean Room Robot Cables are UL Recognized, CE Conforming, RoHS & REACH Compliant and are manufactured in an automated, climate controlled environment. These non-particulating cables are halogen-free, flame retardant, exceed the outgassing requirements of ASTM E-595 and are also excellent for use in vacuum environments .