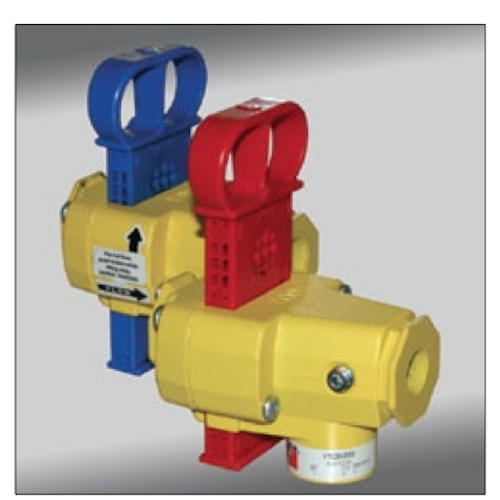 The Modular L-O-X products are lockable only in the off position, and have a full-flow threaded exhaust port. The easy-to-operate valves (positive push/pull operation-detented) have a pressure sensing port for optional installation of pop-up indicator for pressure release verification.
For flexibility, the valves can be mounted inline or as part of a modular assembly. The modular option allows for easy servicing and provides many design options. 
The Modular L-O-X with EEZ-ON operation conveniently provides a soft start function, allowing a gradual buildup of downstream air pressure before it opens to full flow.  This function allows systems with cylinders, for example, to move more slowly and safely into their normal working position before full line pressure occurs, preventing unnecessary wear and tear on your system. 
Available in 1/4, 3/8, 1/2, and 3/4 port sizes. Designed for packaging, conveyor panels, material handling, or any air entry point applications where space and reliable energy isolation are important.  The valves are also available as part of a control-reliable modular air entry package (for control categories 2, 3 or 4).
Valves meet all applicable safety standards, such as OSHA Regulation 29 CFR 1910.147 and the latest ANSI standard requirements found in Z244.1-2003, B11.0-2010 and B155.1.
 
Companies in this article