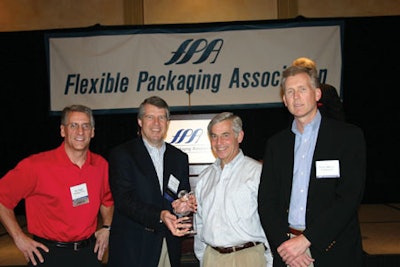 COMPANIES
Sidel Malaysia will open a new plant near Kuala Lumpur that will include 11ꯠ sq' of floor space, two thirds of which will be used for production (assembly and testing).
TCP Reliable and Alternatives Technology Pharma signed a multi-year agreement where TCP will be the exclusive reseller and distributor of ATP's cold chain services and monitoring solutions for the U.S. market, and ATP will be the exclusive sales agent of TCP's temperature controlled packaging solutions in Canada.
Bradman Lake GmbH moved to a new, 1꼀 sq' purpose-built factory in Dietmannsried, Germany.
Norwood Marking Systems announced that Allen Coding Systems, a U.K.-based manufacturer of premium contact coding systems, has joined the ITW family of companies.
Invenio Source, Inc. opened an office in Mumbai, India to handle the need for both new and used automated packaging equipment and consumables in India.
Hartness Intl. formed the Hartness Performance Solutions division, bringing all of the Hartness video monitoring and data acquisition products under one banner.
CMS has moved into its new 70ꯠ sq' Avon, OH, headquarters.
Sakata Inx announced an agreement with Triangle Digital LLC, forming Triangle Digital INX Co., offering digital inks and application services to customers throughout the world.
PEOPLE
Joe Piccione was appointed president of Innovia Films Inc., Americas. Sato America, Inc. appointed Gary Krause director of marketing.
Rick Garber was promoted to vice president of marketing at Colder Products Co. Erie Plastics' Innovation Center hired the following new employees: Coy Herald, senior design engineer; Charles Webster senior project engineer; Philip Thornton, tooling engineer; and Jacob Kent, CAD specialist.
Richard Davis was named regional sales manager of Novapak Corp.
MeadWestvaco Corp. named the leadership team for the new Packaging Resource Group. They are: Robert Feeser, president; Sutton Baldwin, vp, human resources; Brian Chambon, vp, business transformation; Jeff Jensen, vp, operations; Charlie Johnson, vp, global lines of business; Nick Kern, vp, product development & technical sales service; Frank Oliveri, vp, marketing & business development; Dave Reinhart, vp, commercial operations; and Thomas Dalgleish, vp, supply chain.
Mitsubishi Lithographic Presses promoted- Marke Baker to vice president of customer service.
ACHIEVEMENTS
Pillar Technologies celebrates its 40th anniversary of providing induction cap sealing solutions.
Companies in this article
Videos from Diagraph, An ITW Company