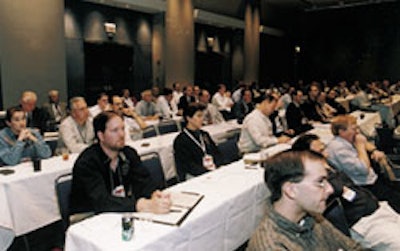 While no breakthroughs were reported, there was evidence that the four subcommittees that make up the packaging working group had begun in earnest the daunting task of simplifying motion control in packaging machinery.
The Connectivity/Architecture subcommittee, led by Bob Martell, motion control technology leader at Procter & Gamble, identified and reported three common architectures in packaging machinery automation:
• PC-based control systems that incorporate logic, human-machine interface (HMI) and motion;
• controller-based systems that consist of separate physical controls such as PLCs and motion controllers; and
• drive-based systems that have programmable logic and motion capability programmed all the way down to the drive level.
Diagrams of each architecture were shown and are visible on the OMAC Web site at www.arcweb.com/omac. Martell also shared a chart comparing and contrasting the capacity and transmission speeds of a variety of PC, PLC, motion control and fieldbus networks.
Regarding connectivity, the subcommittee identified four levels of packaging networks: enterprise bus (which links a packaging line to higher-level computers at the enterprise or corporate level), peer-to-peer cell bus (machine-to-machine network), motion bus and I/O bus (also known as fieldbus or device-level network).
Next, plans call for characterizing the packaging-specific requirements for each network.
Programming languages
The Programming Languages/APIs subcommittee, led by Jay Clark of Roy-G-Biv, a controls software developer, acknowledged the difficulty of standardizing motion control programming languages and application programming interfaces (APIs).
As such, rather than develop something from scratch, the subcommittee focused its efforts on evaluating the existing OMAC Axis API already developed by other OMAC working groups. For a standard programming language, the subcommittee is exploring the feasibility of using the programming languages specified by the IEC 61131-3 programming standard promulgated by the PLCopen standards group.
Benefits & results
Klöckner Bartelt's Jim Lyons, who leads the Benefits/Results subcommittee, stipulated a goal to measure (in dollar terms, where possible) the benefits of each of the benefits (and drawbacks) of servo technology, ideally with separate measurements for end users, machinery builders and controls suppliers.
Reporting for the Education subcommittee, Maria Ferrante, PMMI's director of technical services, issued the subcommittee's first draft of a glossary of terms, which is also available on the OMAC Web site. First comment period deadline is January 8, 2001.
Ferrante also stipulated goals for defining specific training needs. Plans also call for surveying end users, machinery builders and controls suppliers, with results expected early next year.
End-users sought
Although turnout for the meeting was good, most in attendance were either machinery builders or controls suppliers. Indeed, subcommittee leaders stressed the need for greater input from end-users (packagers) to accelerate the group's work.
All presentations were expected to be posted on the OMAC Web site.
The next meeting of the packaging working group will be held at the Rosen Centre Hotel in Orlando, FL, Feb. 20, 2001.
Part two of this report will include the results of an OMAC packaging survey, along with the meeting's question-and-answer session.
Companies in this article