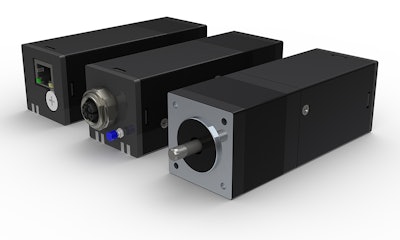 At PACK EXPO Las Vegas, Applied Motion Products introduced the TSM14POE StepSERVO™ integrated motor with Power over Ethernet (PoE) functionality, which it explained is commonly used in IT applications such as wireless access points, IP cameras, and VoIP phones. PoE technology provides DC power and Ethernet communications over a single cable, enabling new solutions for space-constrained and remote locations.
The TSM14POE StepSERVO includes a motor, an encoder, a drive, and a controller combined in a single integrated motor package. Eliminating the need to connect motor power and feedback cables to an external motor controller, the integrated motor receives its power and Ethernet communications over a single cable, which Applied Motion said results in greater design modularity and installation simplicity.
The motor is built on the company's StepSERVO™ closed-loop stepper technology, which Applied Motion said provides numerous benefits over conventional, open-loop step motor systems, including higher torque and greater efficiency. Other advantages include:
A compact size and integrated control electronics that allow motor mounting almost anywhere
StepSERVO technology, which provides greater torque, higher acceleration rates, better efficiency, decreased motor heating, and less noise
Easy adaption to existing industrial Ethernet networks with support for common protocols such as Modbus TCP
Compatibility with PoE+ switches and injectors that support the IEEE 802.3at Type 2 specification
The NEMA-14 frame TSM14POE StepSERVO features an integral 4096-count magnetic encoder that Applied Motion said allows for high position and velocity accuracy. On-board motion control using the company's Q Programming language enables the motor to run motion control profiles on its own as well as to programmatically react to messages received on the Ethernet network. Two connector options—X-coded M12 and modular RJ-45—permit the use of standard Ethernet cables.
Companies in this article