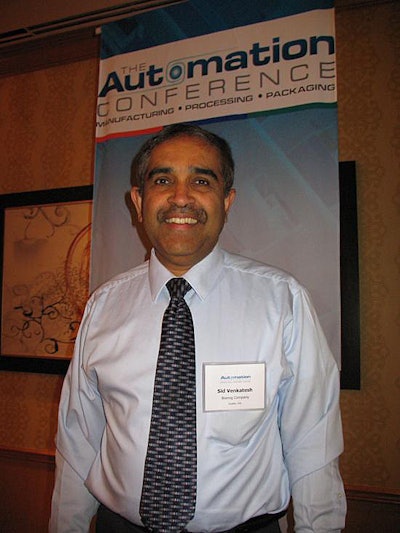 The Automation Conference, a two-day event held May 22 to 23 in Rosemont (Chicago), IL., opened the day with keynote speaker, Sid Venkatesh, associate technical fellow, Boeing, with his presentation titled, "New Vision and Manufacturing Standardization." Venkatesh develops and supports just-in-time manufacturing at Boeing and began the presentation with a five-minute, plane assembly video from Boeing. The video needed all five mintues to capture the enormity of the assembly process. Venkatesh told the conference audience "that Boeing has more than 22,000 suppliers—called structure partners—for the 747-400F, 737, 767 and 777 airplanes. He cited 18 million parts, alone, went into the assembly of the 777 airplane.
The new business model vision for Boeing, dubbed collaborative manufacturing by Venkatesh, includes expanded roles for structure partners, Boeing personnel and a use of common PLM systems. For PLM, Boeing uses an array of Dassault PLM software, including CATIA V5, ENOVIA and DELMIA. For example, the CATIA was used for Boeing's 777 airplane, built in 1995, and was the company's first all-digital airplane. Vantatesh adds, "more than a million bytes of production data were created in the design phase."
Along with expanded roles and PLM systems, Vankatesh added that common standards are needed in the areas of design, manufacturing, support, work instructions, quality reporting, traceability, supply chain and project management.
Oil and Gas
Chris Wells, senior staff instrumentation engineer, ExxonMobil Chemical, spoke about PLC lifecycle management and "how programmable logic controllers (PLCs) are still the workhorses out in the field" for the international oil and gas company. ExxonMobil employs PLCs for many important roles in its operation's setup, including independent Safety Instrumented Systems (SIS), machinery control and protection, and vendor packaged units. Immediate challenges for ExxonMobil's infrastructure are shorter plant maintenance shutdown windows to update and maintain PLCs, increase security concerns, standardization and components, and the complexity involved with integration into the main control system.
Wells outlined three keys for better life extension: better designed migration strategies; on-line change capabilities; and increased flexibility in design to address standardization. Specifically, he sees the online version upgrades and no rewiring of I/O as much needed business improvements.
As with most industrial control presentations this year, security concerns made an appearance in his presentation and in the questions and answers period. Wells says,"that legacy PLC designs are inadequate with respect to security, but the company has done a good job on the main control systems." He points to secure control system interfaces with operator control being limited to read/write access to devices and individual parameters.
The third keynote of the morning saw David Acheson, managing director, Leavitt Partners, deliver his presentation on, "The Food Safety Landscape, Food Safety Modernization Act (FSMA) and Other Factors." He cited many factors driving change for the Food and Beverage manufacturing industry, including 15 percent of all food being imported to the United States, major food science changes, food allergens (contaminants) and the impact of media and consumers on food issues.
Acheson touched on the new Food Safety Modernization Act, enacted in 2011, and how this new law affects food and beverage manufacturers, farmers and transportation. The new law aims at prevention, enhanced partnerships, increased inspections and import safety (domestic standard imported foods).