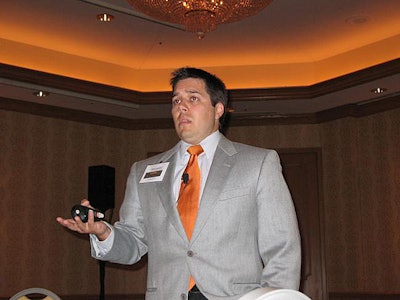 The second day of the inaugural Automation Conference (www.automatinworld.com/tac2012) saw Paul Redwood, Equipment Engineer Manager, Church & Dwight, lead conference attendees into the valley of standards. Church and Dwight is a $2.6 billion dollar consumer packaged goods company and Redwood's presentation focused on how manufacturers should navigate the automation and control standards landscape, focusing on the right people to interact with standards' bodies. He cited employees with technical, administrative and people skills are well-suited for interfacing with standards' organizations and he added, "the people skills are probably the most important attribute for this job."
Speaking of standards, Redwood mentioned Church & Dwight has "stuck a toe in the water" with Pack ML standards, citing the standard in plants in Missouri, Virginia and Ohio. Suppliers include packaging machiner from KHS and Posimat.
Simon Nance, manager of training and development, STIHL Inc., was the second of the three keynote presenters and he provided a case study on holistic training. The case study presentation detailed a five-year plan for training STIHL employees on robotic applications in its Virginia Beach, Virgina, manufacturing center. Nance pointed to traditional classroom learning as a component to training of STIHL employees, but he really emphasized critical thinking via on-the-job training. This on-the-job training included adult learning theory, self-paced learning, job shadowing and individual responsibility. Nance added,"employees need to fail in a safe and controlled environment, where they can experiment and see how to implement performance improvement."
The final speaker was Dr. Bryan Griffen, electrical and automation engineering manager, Nestle. He dove into packaging automation and how the company with 10,000 different brands keeps pushing toward standardization. Griffen says,"Nestle does not differentiate itself with case packing, we are innovators in the area of food processing. So, we need to standardize our packaging machinery with Pack ML."
Griffen pointed to disparate programmable logic controllers (PLCs) throughout Nestle's worldwide plants and the need for standardized data via Pack ML to be delivered by ethernet TCP/IP to the enterprise layer. And looking into the Nestle future, he cited the push for better diagnostics so operators could avoid troubleshooting packaging machine PLCs.
Bryan Griffen is also the Chairman OMAC, Packaging Work Group (OPW) and stressed end-users/manufacturers need to keep pushing towards standards. He cited Nestle's experience and practical use of standards and the need to share these best practices with Pfizer and Procter & Gamble to push Pack ML standards.