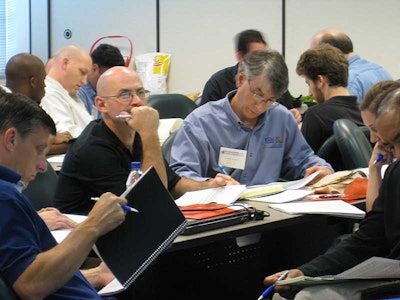 "If you're in food or beverage and you're not holding OEE above 60, you may not be in business in five years from now."
So stated Paul Zepf matter-of-factly at the first of four Packaging Line Performance workshops being co-sponsored by ELAU, Schneider Electric and Hartness International.
The thirty people packed in a Tampa classroom were out to prevent that from happening to their companies. The students included a mix of packagers and packaging system designers -- such as Boise Paper, E2M, Kraft, NJM/CLI and Tropicana.
For information on upcoming workshops,
click here
.
Some revelations
Don't know your scrap rate or downtime for sure? Most companies have a hard time, so start with your best estimate. It doesn't take as much data as you might think to get started. The important thing is to get started.
Zepf, vice president of engineering for Zarpac, filled the two-day session with practical advice and observations based on years of analyzing packaging lines.
• How long is a half-hour lunch break in reality? Zepf asserts that around the world, the average is 42 minutes.
• Running a critical machine faster can actually result in lower good product being produced.
• The OMAC Packaging Guidelines are helping create useful standards and are well worth adopting.
• OEE cannot be based simply on availability, which typically skews the results by 10-15% if yields and rate losses are not addressed.
• Downtime is a symptom, not a cause. And the machine that's down may not be the cause.
Paul also provided a 21-point process improvement list. For example, the disruption caused by a stoppage for an employee meeting is far greater than paying overtime to hold the meeting after the shift.
Sponsors recognized for caring about the industry
Moderator, Packaging World's new media vp David Newcorn, began the session by noting that of all the hundreds of suppliers in the packaging community, it was Schneider Electric, its packaging specialist, ELAU, and Hartness International that chose to step forward and sponsor this workshop series.
He recognized that these companies, which have no vested interest in selling OEE products or services, in a word "care" about the packaging industry.
ELAU's Manager of Business Development, Kirsten Bauchrowitz, explained why. "Actually, I'm here to learn more about OEE, too," Ms. Bauchrowitz told Packaging Automation.
Previously the vice president of the U.S. operations of a pharmaceutical packaging machinery manufacturer, she further explained, "We don't think of ourselves as an automation supplier, but an enabler of advanced packaging systems.
"These metrics are largely underutilized, which is why we are promoting this workshop series. The important thing for packagers is to take the firs steps if they haven't already."
Next workshop: Chicago, April 15-16, DePaul University Loop Campus, 1 East Jackson Blvd., 8th Floor. Register at
www.packagingperformance.com
.
About ELAU
ELAU, Schneider Electric's packaging automation specialist, is the only company worldwide exclusively focused on the automation of packaging machinery. ELAU's PacDrive™ automation system offers the only automation platform purpose-built for the packaging industry.
ELAU equips over $1 billion worth of the world's best machines annually, with over 35,000 PacDrive systems already deployed in packaging machinery worldwide.
The market demands packaging operations that are more flexible and efficient to fulfill marketing, supply chain and global business strategies. ELAU innovations have enabled a revolution in mechanical, software and hardware modularity to deliver these agile packaging systems.
For more information, visit
www.elau.com
or email
info@elau.com
.
Companies in this article