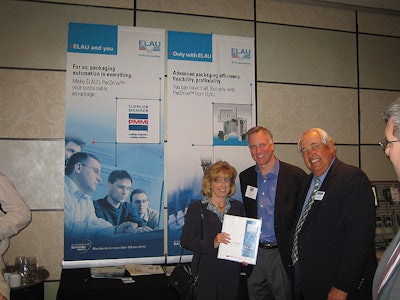 New forum is first to focus entirely on packaging automation
Assemble an impressive array of automation technologists from AstraZeneca Coors Eli Lilly Hershey Miller Brewing Procter & Gamble Wyeth and more – and what do they talk about?
Financial performance marketing and boardroom strategies of all things!
The Packaging Automation Forum made an impressive debut May 24 in Chicago. The audience at the sold-out event saw speaker after speaker emphasize the need for packagers machine builders and automation suppliers alike to think in terms that business leaders will understand.
It was as if the packagers had huddled prior to the event to be sure and send a cohesive message. In reality each of the speakers has enjoyed career success because they've learned to solve business problems with technology. And they've learned that "how" is less important to C-suite managers than "how soon."
The Hershey Company's controls engineering manager Joe Wagner gave a valuable chronological recap of reorganizations within the company's engineering group that began in 2001 and have led to a short list of globally qualified automation suppliers that are accepted on machinery.
Old habits die hard but they do die
With multinationals expanding throughout the world's economic regions it is a costly anomaly for U.S. plants to require a brand of controls that's different from the solution they use across the border in Mexico in Europe in China and everywhere else.
But not only have many U.S. packaging operations locked themselves into a legacy control strategy they've actually spent more money leadtime and engineering effort to force machine builders to retrofit legacy controls on new machines – thus reducing their performance and resulting in costly add-ons such as annual software licensing fees. This status quo clearly will not pass the scrutiny of independent capital justification.
The greatest resistance to change often occurs at the plant level where change equates to the potential for production disruptions. However with consumer markets experiencing rapid continual and profound change the key now is learning to take disruptive change on a daily basis in stride not to avoid it.
Hershey's experience
Wagner related how back in the 2001-2002 time frame Hershey's single vendor spec did not evolve to address the company's new business needs. Mechatronic packaging machine design was beginning. Forcing compliance to their spec was causing cost increases delays issues with equipment suppliers and performance deficits. Conversely Hershey found its OEMs were migrating to a 'one box' solution from global control suppliers that integrated motion and logic.
In their reorganization Hershey sought to reduce leadtimes counter increased competition and readily redeploy assets to accommodate short product life cycles and a growing list of SKUs. Hershey management had developed an 'increasing intolerance for mediocrity.' The status quo simply did not support their new business model or future growth. In addition software updates were an administrative nightmare that cost hundreds of thousands of dollars annually added no value and in some cases didn't even work.
As a result Hershey opened their spec to include multiple control suppliers held OEMs to performance guarantees required multiple levels of training to make the plants self-sufficient and made software updates part of the package. The successful control suppliers demonstrated a 'willingness to work with Hershey to support their new reality culture and business requirements.'
Wagner says that there have been 'no controls showstoppers in any of their fifty projects per year' since the change. Leadtimes are shorter and equipment costs are reduced. He cited savings of $380 on one large project equating to millions of dollars per year. Controls engineers are working beyond stereotypical roles doing more projects with fewer resources acting as project managers working with processes and understanding mechatronics.
The new spec is actually quite stringent. Wagner says that Hershey carefully monitors the control suppliers on an ongoing basis paying attention to the amount of attention they give Hershey their global capabilities and market share growth technology advances and reinvestment in R&D.
Next: more forum perspectives
From Clos du Bois to Miller Brewing from AstraZeneca to Wyeth watch this space to learn how automation managers are 'converting packaging operations into business decisions' according to Miller's Larry Trunek senior project implementation engineer.
Click here to see more photos of the event.
For more trends in packaging machinery automation visit www.elau.com/packagingautomation.
Companies in this article