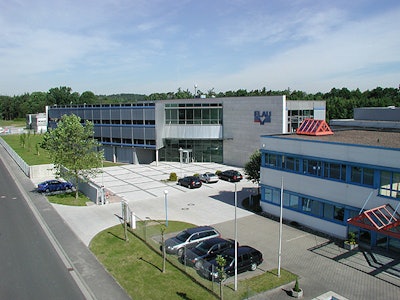 SCHAUMBURG IL April 7 2006 -- ELAU Inc.'s application for the new Supplier Membership category has been accepted by the Packaging Machinery Institute's Board of Directors at their annual meeting. ELAU is one of a number of automation technology suppliers to join PMMI but the company is the only new member specializing exclusively in the packaging industry.
"Working together we can make packaging technology an even more powerful competitive advantage for packagers" said ELAU North America's John Kowal. "Many PMMI members have already embraced the advantages that our PacDrive™ automation system provides. And they are always pleased when they discover many of their customers are already using PacDrive at their facilities around the world."
Dr. Thomas Cord CEO of parent company ELAU AG noted the significance of this new membership category to the company and its customers. "We participate actively in all the packaging machinery builders' associations and standards groups available to us worldwide" said Dr. Cord. "Because North America is the world's largest market for packaging machinery contributing as a PMMI member to the industry is a top priority in our business strategy."
"We've already made the most of every opportunity to engage PMMI's core membership with our strategy of reducing their Total Cost to Develop™ Virtually Zero Cabinet initiative™ and automation technologies that are purpose-built for packaging. We look forward to continuing our sponsorships of important PMMI activities" said Kowal "now as an integral part of what I believe to be the most effective advocate organization among North American manufacturing industries today."
ELAU has demonstrated its commitment to the packaging industry as Gold Sponsor for PMMI's golf tournaments benefiting education; by sponsoring PMMI's Partners in Packaging PackOps and Market Trends events; by lending technical support to PMMI's technical workshops; as a Benefactor of the Institute of Packaging Professionals; as a charter sponsor of the new Packaging Automation Forum; as the exclusive sponsor of Packaging Automation the first digital magazine devoted to the topic; and through its support of a number of users groups standards organizations and education initiatives.
ELAU is recognized by the world's premier automation analyst firm ARC Advisory Group as having "proved to be an innovator of motion control systems specifically for the packaging machinery market. From the beginning ELAU entered the packaging market with a commitment to provide a solution that pushed the envelope in this application domain….they developed a best fit solution for a market that was burdened by legacy products….identified the need for a pre-engineered solution that is optimized specifically for packaging machinery applications…recognized that a seamlessly integrated software and hardware solution would redefine the state of the art….machinery would be easier and faster to deploy while machine builders would not have to compromise performance. In many regards the (ELAU) PacDrive set the stage for machine builders to implement Gen 3 packaging machines."
About ELAU
ELAU a company of $12 billion Schneider Electric equips over $1 billion worth of the world's best packaging machines annually. Currently over 30 PacDrive systems are deployed in packaging machinery worldwide. PacDrive is the first truly integrated automation architecture capable of performing the functions of PLC motion control robotics temperature control PLS MES data interface and more in a single standards-based software environment.
For more information visit www.elau.com or email info@elau.com.
Companies in this article