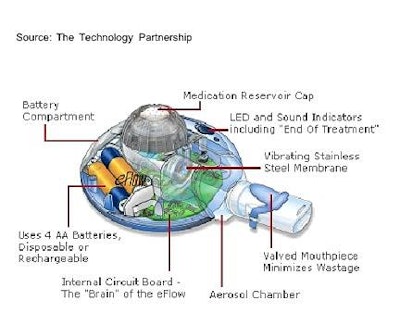 According to smart packaging consultancy IDTechEx, smart aerosols are a form of smart packaging where the container often has the dispenser used by the consumer. For example, battery-powered aerosols from Procter & Gamble in Japan charge the emerging droplets via a transformer for that provides unusually even application of the women's facial foundation. Another smart aerosol, Mortein brand fly sprays from Reckitt Benckiser in Europe, chase the fly by charging the droplets electrically using a piezoelectric crystal. Both of these smart packages were covered in Higher IQ Packaging, published in February 2005.
Then there is a prospect of paint aerosols that spray unusually evenly, also based on piezo-charged droplets.
Smart aerosol for drug delivery
Although initial development work was done at Southampton University in the United Kingdom with piezo crystal technology, The Technology Partnership (TTP) at Melbourn, Cambridgeshire, UK has now produced a piezo-driven device that controls droplet size based on a different principle that is used for drug delivery.
TTP is working with a number of international companies to create products based on its electronic aerosol, known as Touchspray, which TTP says has significant implications for the treatment of chronic respiratory conditions such as asthma and cystic fibrosis. Unlike conventional inhalers, Touchspray does not require gas propellants.
Ejects uniform droplets
The heart of Touchspray is a low-profile piezoelectric actuator incorporating a thin, perforated stainless steel screen membrane, which is manufactured using a patented micro-machining technique to produce what functions as an array of micron-sized nozzles. The actuator is driven at ultrasonic frequencies which causes the membrane to vibrate, ejecting millions of precisely sized droplets each second.
Bioavailability can be as high as 90% delivered into the lungs via Touchspray compares with only 20-30% efficiency delivered using conventional inhalers. The increased efficiency means physicians would be able to prescribe smaller doses of medication and for dramatically shorter treatment times. It also reduces unwanted side-effects that can be associated with ingesting drugs into the stomach or intestine.
Nebulizer launched commercially
TTP has licensed Touchspray technology to PARI, Starnberg, Germany, a worldwide leader in efficient aerosol delivery and pharmaceutical formulation development, for electronic nebulizers. PARI has launched the eFlow(R) nebulizer, a product that is now available in the United States, and is involved currently in clinical trials for asthma and CF medications exclusively delivered with eFlow. TTP is extending the reach of this technology by licensing it to other companies in the pharmaceutical industry. Discussions are underway with several large companies for new drug applications.
Companies in this article