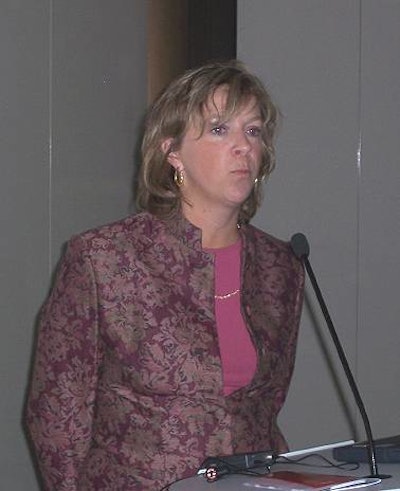 Following are a few of the observations Sinclair made in a presentation on packaging machinery purchasing at Hershey:
The engineering department sees its responsibility as one of translating technology advancement to the manufacturing environment.
70% of new sales growth at Hershey last year came from innovation.
Major investments in packaging machinery have tended to be from European OEMs. But the strong Euro and a preference for buying close to the source has caused Hershey to look to new sources, including China, India, and Brazil. Concurrent with this shift has been an opening of controls standards.
Lately Hershey has focused more on secondary packaging than primary, caused largely by the marketplace's new preference for not just 12- or 24-count trays and cases, but for 9-, 8-, or 7-count formats, too.
The Hershey contingent at interpack 2005 numbered 30, but none in attendance were in marketing functions. When asked why, when so much emphasis is being placed on the integrated supply chain, Sinclair replied that internal information sharing at the firm ensures that the marketers back home are plugged into the information gathered by the engineers at interpack.
Key objectives for the Hershey contingent at interpack include evaluating new technology, machine design, and operational capabilities; identifying new suppliers and enhancing relationships with existing ones; taking advantage of the unique educational experience that interpack represents; and alerting the global supplier community to emerging Hershey needs.
Lower-cost producing environments continue to attract Hershey management. Where 10-15 years ago those environments could be found in North America, today the firm is just as likely to look globally, even though only 10% of sales is outside the U.S.
A key strategy going forward is to use manufacturing capabilities to react to today's shorter product life cycles. The product life cycle that was 5-10 years not so long ago is now 2-3 years. Hershey engineers have to cope with that and Hershey vendors have to be on the same page.
More SKUs, shorter product life cycles, more frequent changeover—these are shaping the design of packaging machinery today. Better controls technology will play a key role. Hershey is trying to drive standards where controls integration is concerned. The firm's ongoing involvement in OMAC Packaging Workgroup reflects that.
Speed to market is critical and will only become more so. As customization and fast changeover assert themselves as givens in the manufacturing scene, long runs are a thing of the past.
Scalability is a pressing need. As Hershey brings a new product to market, they need to fill the pipeline faster than ever, especially when considering that the product life cycle has been so greatly shortened.
Hershey is trying to strengthen its technical skills through training. This includes close work with local technical schools, something Sinclair admits should probably have been done in the past. Hershey wants operators of packaging machinery to be better able to interpret and act on machine conditions.
From a maintainability and reliability standpoint, Hershey seeks to shift the focus of technicians from repairing to maintaining and improving systems. The firm wants to move less technical tasks—adjustments, changeovers, and TLC (Tighten, Lube, Clean)—to operators.
Contract packaging continues to play a key role in Hershey's approach to a marketplace whose needs and priorities shift more rapidly than ever. The firm looks at how much capital would be required if packaging is in house compared to what it would cost to pay a contract packager. The location of the project is a factor, as is its life span. The firm's decision-making has changed considerably in these days of the shortened product life cycle.
Companies in this article
Videos from Universal Labeling Systems, Inc.