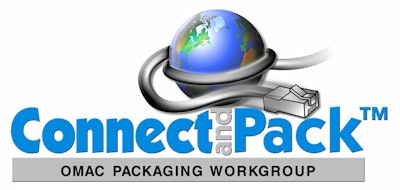 User group merger integrates packaging with manufacturing
John marketing manager for the world's largest supplier of automation systems for servo packaging machines is a founding member of the OMAC Packaging Workgroup and Make2Pack as well as an ISA member. ELAU is a World Batch Forum Sponsor and an IoPP Benefactor.
As reported by Packaging World the proposed merger of the OMAC* Users Group (of which the OMAC Packaging Workgroup is a subset) with the ISA is a good idea whose time has come.
OMAC as a pure play users group will benefit from the infrastructure that an international standards organization provides. And for ISA** with its strengths in process control it's only logical to expand its focus to include OMAC's discrete control guidelines for packaging and manufacturing.
Make2Pack: a parallel initiative proves the point
Even as OMAC leadership conducted their due diligence over the past year the concept was proving itself in the form of a new working group seeking to better integrate processing and packaging. Initial discussions took place during the 2004 ARC Forum between members of OMAC Users Group and the World Batch Forum which champions the ISA S88 and S95 standards.
Manufacturing leaders belonging to both groups such as Unilever's Andrew McDonald recognized a potential to integrate OMAC's PackML guideline which is derived from ISA S88 with batch process control.
In a joint statement of the two groups on January 27 of last year David Chappell Technology Leader for Procter & Gamble cited a convergence of automation technologies and standards: "We believe that a consistent use of standards will allow different people within different operations at the same company to apply automation technologies in the same ways. This will result in lower costs common skills levels and reduced manpower requirements."
In the same statement Thinus van Schoor Automation Manager for SAB Miller represented the OMAC Packaging Workgroup asserting that process companies have a discrete side as in packaging. "In today's manufacturing environment the fundamentals of process batch and discrete automation technologies have more in common than ever" van Schoor explained. "We need to cut across the different silos and different departments and speak the same language. If we can merge our process and discrete manufacturing operations we will generate great efficiencies for our corporations."
In August 2004 a group that included OMAC WBF and ISA SP88 leaders van Schoor Chappell Rob Aleksa of P&G Lou Pillai of Pfizer Fred Putnam of OMAC's PackML team Leif Juergensen from ELAU and myself drafted a charter for Make2Pack and the working sessions have been bi-weekly since then.
Make2Pack is now a joint working group of OMAC World Batch Forum and the ISA's SP88 committee. Our goal is to define a new ISA standard tentatively Part 5 of the ISA/ANSI S88 standard and its European equivalent IEC 61512.
Packaging becomes a supply chain strategy
The potential of collaboration between batch continuous process discrete manufacturing and packaging is for products to be more efficiently manufactured and packaged according to customer demand.
Like flexible manufacturing packaging automation has great potential as a supply chain management strategy especially in the CPG sector where the package is often the major difference between SKUs.
This is because food beverage pharmaceutical and household products involve a relatively small number of basic formulations in comparison to the variations generated by multiple package configurations. There are many reasons behind the profusion of packages ranging from consumer market segmentation to country requirements to retailers' specifications.
By better synchronizing production with packaging smaller batches can be made with less lead time. This brings manufacturing a step closer to the goal of "make to order" instead of making the anticipated products and packages to stock. This also has the impact of reducing inventory and the potential for waste of perishable items.
Achieving the "M" in OMAC
One of World Batch Forum's longtime goals is to improve the modularity of control software compared to monolithic ladder logic the so-called "spaghetti code." The IEC 61131-3 programming language standard in the OMAC PackSoft Guidelines can do just that.
We've followed a modular 61131 programming template using an IEC conforming software library since 1998. Working together with ISA it now appears that this model can serve as an example for the entire control industry not just packaging. For example IEC 61131 Sequential Function Chart is a natural choice for implementing S88 control modules.
Why is modularity important? Modular is the "M" in OMAC. Modular architecture in control software begets modular mechanical design. It's what allows machine builders to cost effectively develop customized machines from standard modules. It allows packagers to reconfigure modules rather than buying single-purpose machines. It means that software modules are reusable reducing development and validation costs as well as learning curves for operators and maintenance technicians. And it means that these people can be cross-trained to work in either department.
Like Make2Pack the ISA-OMAC merger will make it easier to horizontally network and synchronize packaging lines automated by my company with manufacturing lines controlled by the PLC and DCS vendors' systems. Likewise M2P sets the stage for OMAC and ISA S88/S95 goals of vertical integration – the interfaces needed for equipment to provide good information for production management systems.
If all these benefits of an ISA-OMAC merger seem to echo the Make2Pack founders' words quoted earlier I believe that's the most powerful rationale for supporting the pending merger.
*OMAC stands for Open Modular Architecture Controls
**ISA stands for The Instrumentation Systems and Automation Society
For information visit www.wbf.org or www.omac.org.
Contact ELAU at info@elau.com or visit www.elau.com.
Companies in this article