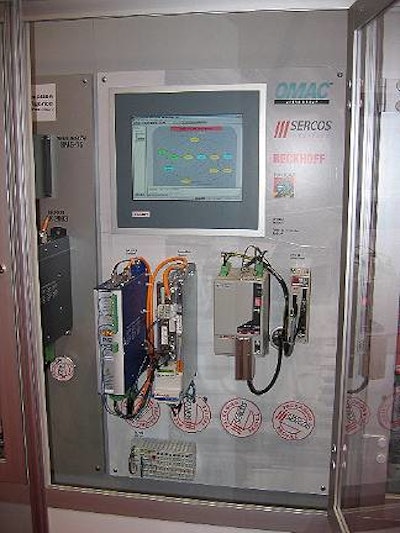 In the demo (a portion is shown here) were controllers, servo motors, and servo drives from five different automation technology providers. Historically, it's been difficult to integrate a controller from one technology provider with a drive or motor from another. But by connecting drives and controllers over a SERCOS network and taking advantage of PackML—a universal state model and naming convention for all packaging machinery—that difficulty is overcome.
The idea behind the display was to show how a packaging machinery OEM can now mix and match controllers and drives from varied technology providers without having to waste time rewriting software programs. A Profibus version was supposed to be shown in addition to the SERCOS version, but it got hung up in U.S. Customs and didn't make it to Pack Expo.
The controllers and drives shown in the demo all supported all of the IDNs (essentially digital words) outlined in the Pack Profile.
For more information, visit www.packml.org.
Companies in this article
Videos from All Packaging Machinery Corp.