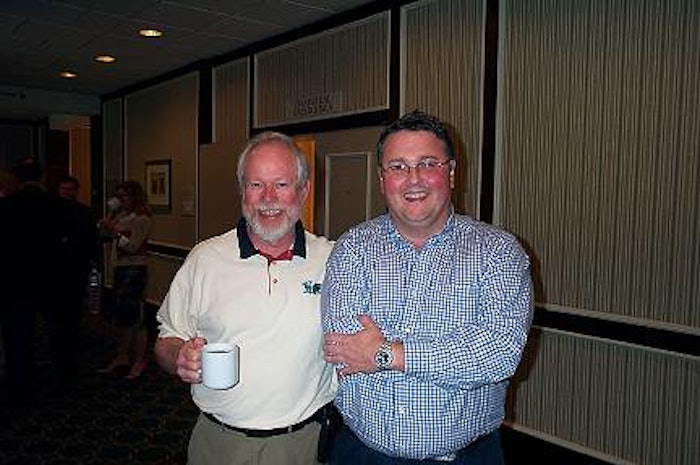 These were among the introductory comments delivered by David Chappell (shown on left), technology leader at Procter & Gamble, at the first working session held by the World Batch Forum and the OMAC Packaging Workgroup. The May 19 session, held immediately after the four-day WBF North American conference in Lincolnshire, IL, drew about 30 attendees representing both automation technology suppliers and end-users, including Procter & Gamble, SABMiller, Schering-Plough, Unilever, and Pfizer.
Participants at the session quickly reached consensus that it makes good sense to coordinate the development and implementation of the IEC/ISA S88 standard for batch control architecture with OMAC's PackML state model. The WBF committee working on Part 5 of S88 seems especially well situated for engaging in joint activities with OMAC because Part 5 is focused on recipe/equipment interface. Consultant Lynn Craig of Manufacturing Automation Associates emphasized that the S88 Part 5 committee is just getting started, but basically their objective is to flesh out ways in which the handling of batch recipes and the handling of third-party equipment such as packaging machinery can share the same controls architecture. "The initial emphasis has been on reducing the pain as we try to integrate disparate equipment into a unified control system," said Craig.
A key objective behind this first-time meeting of the two groups was to have each familiarize the other with what their work is all about. In describing OMAC to WBF members, Unilever's Andy McDonald (shown on right) had this to say about OMAC's orientation and objectives.
"OMAC is primarily end-user oriented, but we must link with suppliers, with the academic community, and with the [trade] press. We want to arrive at mutual business advantages for end users, OEMs, trade organizations, and technology providers. We've tried hard not to be geeks about discussing technology, which is an enabler, not a goal."
Participants from both WBF and OMAC Packaging Workgroup agreed that when it came to setting common goals, they should aim high but take small steps. "Look at S88, for example," said P&G's Chappell. "We've been nibbling at pieces at a time."
The ultimate goal for both groups, said Chappell, is to find meaningful ways of breaking down manufacturing silos wherever they impede efficiency and productivity.
"We don't want separate companies inside the same plant," said Chappell. "We want to pass data horizontally from CEO to continuous processing to batch processing to packaging."
Among the end-user company representatives at the meeting was Willie Lotz of SABMiller, whose new line at Capetown, South Africa, probably represents the fullest implementation yet of PackML concepts. Though the new line has only been running since late March, the benefits are beginning to manifest themselves already, said Lotz.
"From any one of 13 machine stations, you can see what any of the 13 machines is doing," said Lotz. "The PackML standard also makes it easier to identify the parameters that lead to faults. Operators can move from one machine to another without learning a new programming language. And these machines are from Germany, from America, from all over the world."
SABMiller's ability to embrace and implement PackML standards has been made easier, Lotz told the meeting attendees, by the firm's earlier experience with S88 standards.
"Our people can see similar ideas being applied now in packaging that they already were introduced to in batch processing," said Lotz. "You see similar reporting structures, similar principles. They get a packaging line overview that allows online optimization based on machine states. There's a lot more work to be done, but the infrastructure is in place."
The meeting concluded with an agreement that phone connections and teleconferencing sessions between WBF and OMAC Packaging Workgroup should be used to explore areas of common activity. Also, two face-to-face gatherings are planned. The first will be June 30 at the conclusion of the Packaging Machinery Manufacturers Institute's PackOps Conference at Chicago's Westin O'Hare. The second is tentatively planned to coincide with PMMI's Pack Expo International, scheduled November 7-11 at Chicago's McCormick Place.
Companies in this article