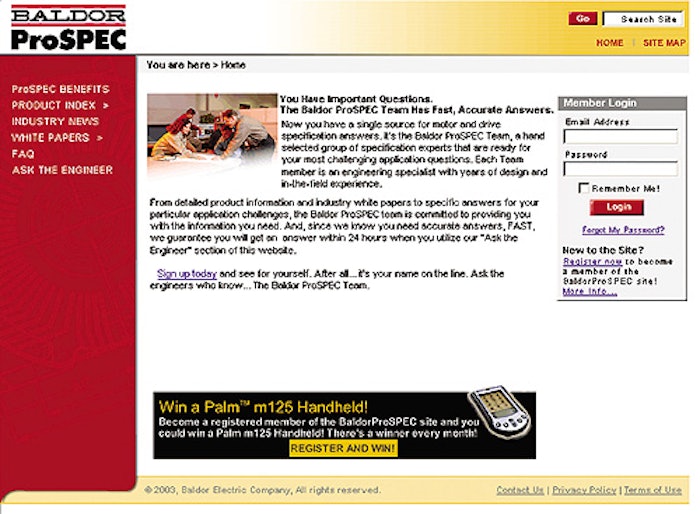 The site went live early March, 2003.
"The idea with ProSpec is to provide engineers with someone to talk to when they need fast and accurate technical product information," says Kevin Dunn, ProSpec team leader and Baldor's director of engineered sales. "Engineers need someone who speaks their language and understands their specific application challenges."
Users can visit the Ask the Engineer section to pose technical or general questions. Visitors are guaranteed that their question will be answered by a Baldor engineer within one business day. The Web site is staffed by engineers with experience in any application, including packaging. And questions don't necessarily have to concern Baldor products. Engineers are equipped to answer any general question regarding motors, drives, generators, motion control, and gear products.
Other features of the Web site include access to Baldor product specifications, performance data, wiring diagrams, noise and vibration data, technical manuals, and drawing downloads. Other educational aspects include computer-based tutorials, white papers, application notes, and registration opportunities for on-site workshops. The information found on the ProSpec site is much more targeted to specifying and consulting engineers than information found on the general Baldor Web site. Product specs are also much more detailed.
"Our research indicates that specifying and consulting engineers who spec motor, drive, and generator products are looking for a peer with whom they can consult and from whom they acquire the latest, most-up-to-date technical information available related to their needs," Dunn says. "That is exactly what ProSpec was designed to provide."