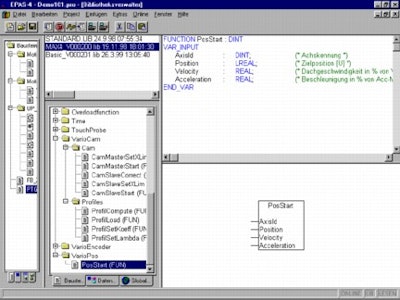 Recent advances in packaging automation
If you look at recent developments in packaging machinery automation a lot has changed for the better. And it's primarily been thanks to software advances. You might say that today's standards-based software is the best thing since well…packaged bread…after all we are in the packaging business.
A universal language
Not so long ago machines used a wide range of incompatible motion languages. Some were textual and unfathomable for anyone who wasn't a C programmer. PLC-based motion often relied too heavily on ladder logic making for awkward motions at best. Still others were Windows-based easier to visualize and therefore touted as 'intuitive.' Regardless no two languages had the same look and feel.
Now thanks to the combined efforts of PLCopen and the OMAC Plug-and-Pack™ Workgroup a true international programming standard has emerged for packaging automation. Known by the official designation IEC 61131-3 this language standard is already found on all Generation 3 packaging machines.
PLCopen and the Plug-and-Pack subteam responsible for programming software have formed a cooperation that will result in a powerful open software library and best practices for writing the software.
Five years 'new'
For five years now ELAU Inc.'s PacDrive automation system has been firmly based on the IEC standard. The company raised some eyebrows in 1998 but now their vision has been proved correct.
According to ELAU's training manager Randy Horton "you can see the light bulbs go on in class when I show how we encapsulate a complex cam profile inside one of our IEC compliant function blocks."
A 'function block' is a software object integral to the IEC language standard. Function blocks vastly simplify integrated motion and logic programming in Generation 3 packaging automation.
Time to get educated
The educational need goes far beyond automation suppliers' training departments however. And thanks to the Center for Automation and Motion Control at Alexandria Technical College Alexandria Minnesota we may soon find a whole generation of packaging engineers and technicians graduating with this language standard in their skill sets. CAMC is planning to develop a curriculum for teach the language standard and become a National Science Foundation 'Center for Excellence.'
Already a number of 2- and 4-year schools are aligning with CAMC. This is an incredibly important initiative. For more information and to show your support please contact Dr. Kenneth Ryan at CAMC kenr@alx.tec.mn.us.
For Plug-and-Pack information www.omac.org
For PLCopen information www.plcopen.org
For CAMC information www.elau.com
[This advertorial originally appeared in Packworld.com's supplier-sponsored content area.]
Companies in this article