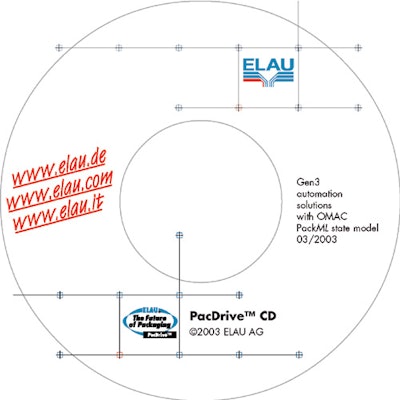 The PackML™ state model (Figure 1) was developed by the OMAC Plug and Pack™ Workgroup (for more information visit www.omac.org or www.packml.org). While developing guidelines for interoperability OMAC members recognized the fundamental benefit of a common state model and naming conventions for machine states. They based their model on the popular ISA S88 batch standard.
Packaging machinery buyers in North America are now beginning to write specifications requiring PackML
Tom Jensen Senior Technology Evangelist for ELAU has developed a best practice for implementing the state model in ELAU's IEC 61131-3 based PacDrive™ control application using Sequential Function Chart (SFC) language (Figure 2). The same principles can be applied as best practices for implementing PackML on other IEC 61131-3 target platforms.
SFC is ideal because it lends itself to replicating a state machine and visualizing changes in state. Combined with a PLCopen Motion Task Force compliant function block library control vendors offering this state model implementation can provide the packaging industry with increasing commonality between machines.
Plug and Pack guidelines have been approved for PackML Auto (for production) and Semi Automatic and Manual modes (for setup functions). Auto is the operative mode for control programming.
PackML tag names (see Figure 2) all begin with PML_ for consistency and ease of identification The model supports States (Machine Status) and Transitions (Commands). The best practice uses SFC action steps to execute transitions between states.
The complete guideline can be downloaded at the PackML website. The source code for implementing PackML in SFC for the PacDrive target platform is available free of charge for users of this control system from www.elau.com/packml or from the PackML website. ELAU is also offering free half-day seminars for customers who wish to implement the state model in SFC. For seminar information contact Tom Jensen at 773/342-8400 or tom.jensen@elau.com.
[This advertorial originally appeared in Packworld.com's supplier-sponsored content area.]
Companies in this article