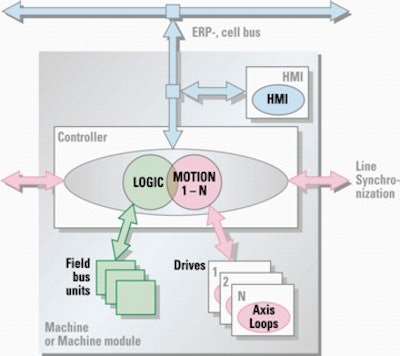 A few years ago packaging costs were not seen as a major issue in pharmaceutical so machine designs remained conservative and mechanical.
Now third generation servo-controlled packaging automation is directly replacing mechanical packaging machinery. Gen3 performance is directly addressing the industry's increasing regulatory and competitive pressures.
The new machinery is mainstream being supplied by top machine builders -- including Bosch Harro Hoefliger Norden Pac Pester Uhlmann and others. But the technology used to automate this type of machinery deserves more attention by packagers seeking the maximum operational efficiencies from their investments.
That is why an automation supplier that specializes in Gen3 packaging machinery has chosen to exhibit at Interphex for the first time. Technology that ELAU Inc. (Booth 2350 Interphex) provides is a key enabler for the new class of machinery.
Business advantages
ELAU will use Interphex to explain how the functionalities of its PacDrive‰ automation suite provide business value.
For example showgoers will learn how pharmaceutical packaging operations can make best use of Gen3 capabilities to reduce FDA validation costs. Gen3 machines actually have fewer control systems to validate than previous servo machines and many use off-the-shelf software libraries that simplify validation.
Increased flexibility can prevent delays in product launches. And with some advanced packaging lines costing in excess of $1 million there's a strong incentive for flexibility to maximize utilization as well. This is especially critical for contract packagers but overall product and format changeovers are on the rise throughout pharma.
Many of the Gen3 machines also apply servos in ways that reduce re-sterilization downtime and increase cleanability. A reduction in change parts also saves time as well as physical costs.
Standards-based innovation enters specs
For manufacturing technologists at Interphex ELAU applications engineers will also explain the latest in OMAC Plug and Pack‰ guidelines. Some pharmaceutical companies are already incorporating the Plug and Pack guidelines in their user requirement specification documents.
ELAU will announce an upcoming seminar series for implementing the new OMAC PackML™ state model in IEC 61131-3 compliant programming software. Also available is a recently certified PLCopen-compliant function block library for 61131 programming. Both provide important advances in commonality.
Plug and Pack guidelines benefit packagers who have traded performance for the commonality of a single automation supplier. Packagers are now free to accept the machine builder's preferred control solution – the solution that adds the most value as designed.
More analyst reports on tap
In a definitive analysis ARC Advisory Group (Dedham MA) asserts that "The packaging machinery on the market today with the highest Return on Net Assets is clearly using Gen 3 control architectures" and that "In many regards the PacDrive set the stage for machine builders to implement Gen 3 machines."
A new pharmaceutical industry report is due out from ARC in the time frame of this year's Interphex show which runs from March 31 through April 2 at New York's Jacob Javits Center.
To place your advance order for a free copy of the upcoming ARC report Pharmaceutical Industry Leverages Efficiencies of Generation 3 Packaging Machinery visit www.elau.com/interphex.
The October 2002 ARC report entitled Paving the Way for Generation '3' Packaging Machinery: Optimized Digital Control Solutions for an All Servo Packaging Machinery Control is also available at www.elau.com/interphex.
For more information on the show visit www.interphexexpo.com.
Companies in this article