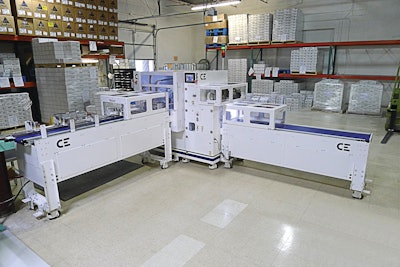 CE Madison Banders has introduced its advanced AP-25, a servo-controlled collating and banding solution. The AP-25 automatically creates stacked bundles of individual packages and then bands them with low-cost stretch wrap.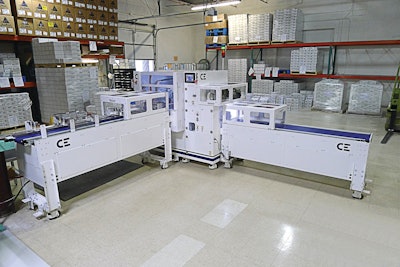 The AP-25 represents the OEM's first major deployment of servo motor and controls technology from Festo. But before diving into how the controls components make their contribution, it helps to understand that this machine produces what's known as "breakpacks." Here's how breakpacks fit in, using cartoned 100-count aspirin bottles as an example.
Retailers have figured out how many packages of aspirin are sold in a store per day. So suppose Walmart has determined that a store sells six 100-count aspirin bottles per day. Walmart doesn't want that store getting a case of 24 loose units of aspirin. It wants a 24-count case holding four six-count breakpacks inside so that store personnel can efficiently grab six units to replenish a shelf. Often it's paperboard or corrugated that's used to hold the six units in the breakpack. What Madison Banders has come up with is a machine that automatically collates the cartons and forms breakpacks using stretch wrap instead of using paperboard or corrugated.
Keep in mind that while Walmart might want a six-count breakpack, Target may want four-count, and CVS might want three-count. And that's where Festo came in. Servo-controlled changeover from one format to another takes just minutes. This comes in mighty handy for a contract manufacturer, for example, who supplies Walmart, Target, and CVS, because it lets them efficiently process a high mix of breakpack formats. This lowers labor costs and boosts throughput, both of which contribute to greater profitability. Plus the stretch film used by the AP-25 for banding reduces the cost of consumables compared to paper or polypropylene banding materials.
For more on Festo automation solutions, go here.
Typically the AP-25 would be situated on a packaging line downstream from the aspirin bottle cartoner. To change over from one breakpack format to another, an operator simply selects the size of the units being bundled and the bundle configuration on a touchscreen and the AP-25 changes its configuration. Synchronization of Festo C Model CMMP four-axis servo-controlled motors makes changeover between package and stack configuration fast with less stress on the motors than typically found in multi-motor solutions. Less stress lengthens service life of these costly components. Stack size ranges from a small 3- x 3- x 1-in. bundle to a large 12- x 11- x 8-in. bundle. Once formed into stacks, bundles are routed through the automated bander and exit the machine with neatly banded breakpacks ready for case packing.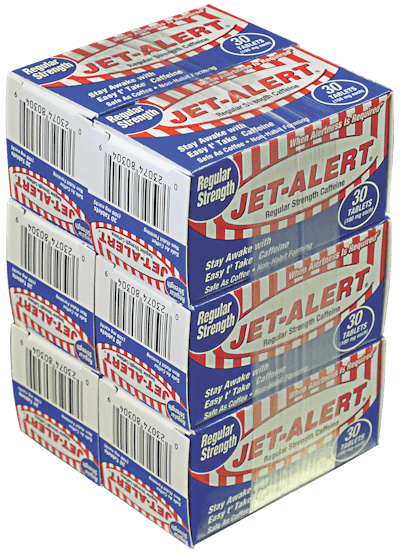 The most technically challenging design element of the AP-25 was the four-axis servo-controlled stacking system, says Jason Kenney, President of Madison Banders. "Many times multi-motor servo systems are not properly synchronized. This lack of synchronization means the motors work harder, which shortens their service life. We wanted harmonious coordination of the motors."
To help with this system, Kenney worked closely with Festo Electric Automation Business Development Specialist Neil Burgard. Burgard calculated the torque curves, performed the speed analysis, specified the Festo motors, and designed the communication system linking the PLC to the servo system. Burgard also trained Kenney's team on how to program the drives.
Festo prepares kits of the servo system for the AP-25 so that all the parts arrive in a single box with a unique part number. "All we have to do is enter that part number and Festo sends us the kit," said Kenney. "It's all very efficient. This level of transparency of part availability and shipment times shortens the design process and lowers our inventory requirements," said Kenney. "Festo core products are going to be available for years, so we don't have to worry about obsolescence." Kenney discovered that the cost of Festo products is competitive to what he paid for similar products and in some cases less. He found the quality high and if there was a problem with a component, Festo shipped a replacement with no questions asked.
Madison Banders uses both pneumatic and electric motion on the AP-25. In the past when a pneumatic valve manifold was designed, the engineering team prepared a detailed spreadsheet of parts, sent it to the distributor, and waited for a reply as to whether all the parts were available. When the parts came in, the team assembled the manifold. Kenney now uses Festo online engineering tools. "I design a valve manifold in about five minutes," he says. "When the manifolds arrive—and they arrive quickly—units have been assembled and tested. It's a slick process that saves us a lot of time, especially high-cost engineering time."
The first AP-25 was delivered to a customer in three months rather than the six to nine months it would have taken if the old processes were still in place. Engineering overhead was lower, and the company carries less inventory due to fast, assured shipment from Festo.
"OEMs are always looking for ways to keep costs in check without sacrificing the quality or capabilities of their product," Kenney said. "The Festo partnership ticked every one of these boxes."

Companies in this article