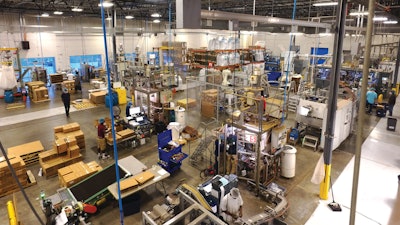 From humble beginnings nearly 25 years ago in a 400-sq-ft New Orleans facility, with a single SKU of single-serve espresso, Pod Pack has grown to be considered "the Switzerland of coffee pod packaging" as the company does business with just about every brand these days on some level. That includes providing many major national, regional, and private label store brands as a value-added co-manufacturing partner. The company also serves the institutional and hospitality segments where its products can be found in hotels, hospitals, offices, college campuses, QSRs, convenience stores, and foodservice locations, plus a host of local, high-growth boutique brands.
"We offer a wide array of turnkey single-serve solutions," says Marion Gray, CFO, Pod Pack. "Whether using the customers coffee or one of our in-house blend selections, we can manufacture virtually any single-serve format the customer prefers. We have 14 different packaging lines—all primarily custom-designed, highly specified equipment."
---
Interested in controls and automation, like ERP systems, that stand to transform brands, CPGs, and packaging in general? Join us for "The Most Engaging Virtual Event for the Entire Industry" at PACK EXPO Connects, November 9-13. Live demos of equipment and products, live chat with product experts, expedited product search, and more. Attendee registration is now open. Visit packexpoconnects.com to register and plan your experience.
---
There are many tight-tolerance, multi-point processes and ensuing packaging operations that occur dependent on the specific format desired. For instance, coffee beans that are designated for K-cup compatible products are ground precisely 24 hours prior to primary packaging to allow for optimal degassing to occur, a necessary step for this format. But other single-serve formats go from whole bean to ground coffee to packaging in less than 180 seconds, ensuring maximum freshness for the end consumer. For soft filter pod offerings, coffee beans are ground to exacting specifications per a predetermined amount that is automatically metered out by volume or bulk density onto the bottom layer of a single-serve filter paper pod, and the top layer is heat sealed to enclose the pod. Secondary packaging involves a number of individual pods being placed into a film pouch, which is then nitrogen flushed and sealed, again insuring maximum freshness.
Dealing with SKU proliferation
Far from its original digs, Pod Pack now operates a 75,000 sq ft. facility in Baton Rouge, La., and in 2018, the family-owned business took on private equity partner to accelerate growth. And grow it has. Like other contract manufacturers and packagers that are growing and dealing with major brands and private label, as well as growing its own brand, Pod Pack has recently been dealing with a rising number of SKUs.
"We currently support over a dozen convenience-portioned formats, and certain lines are tailored to certain applications," Gray explains. "On a given day we are likely to be running all formats across our 14 different production lines. Each product that we develop or manufacture for a customer will have its own product specifications sheet. That product specifications sheet details all the materials that are used including the precise grind, weight, flavor profile and packaging format. Anything you can imagine that's specific to that product is on that sheet—we think of it as a unique, custom recipe for each product."
Until recently, this meant operators starting a new production run had to consult a Microsoft Excel-based database—a clunky but familiar and functional work-around for so many manufacturers for so long—to find the right recipe. Then, they would have to manually gather the correct packaging materials and components, such as film and filter paper or machine change parts and the tools needed to changeover. Often, Gray says, this could mean operators physically checking stock parts, a time-consuming process.
"It was a fairly manual process that involved a combination of paper, binders, Excel files, and access databases," Gray says.
It was also a static process with little runway for scale. Such a process would suffice for a limited number of SKUs, but in a dynamic growth environment the process no longer worked. The facility was growing, and with outside investment, the prospects for the future were growing. It became clear that a better solution was in order.
---
See it Live at PACK EXPO Connects Nov. 9-13: Federal Net Weight Filler, by Federal Mfg LLC. Preview the Showroom Here.
---
Enterprise resource planning (ERP) modernizes operations
In recent years, Pod Pack implemented the DELMIAWORKS (formerly IQMS) manufacturing ERP system to drive the real-time insights and automated processes required to handle SKU proliferation, ensure quality and compliance, maximize productivity, and provide a superior customer experience. Though, as the name implies, the ERP system is enterprise-wide, advantages are felt right down to the packaging line operations.
Each production cell now has its own workstation with an HMI. From that workstation, operators are running a shop data interface out of DELMIAWORKS that's giving them continual information on the production. Operators have spec sheets available to them, and they can monitor materials and inventories. They're also using that real-time interface to load real-time production data on quality checks, downtime, or maintenance issues specific to the equipment they're running. Everything's right there, digitized, and at their fingertips.
By now, most large, international brand owners are well-versed in ERP; they wouldn't be able to successfully compete on that stage if they weren't. And there are a lot of options for companies seeking ERP solutions. But after thorough research, Gray and Pod Pack saw the DELMIAWORKS system was the right fit for them since it had all the capacity to grow, but still was a manageable stack for its unique set of needs. As a contract manufacturer and packager with a large and growing SKU base and a need for flexibility and variability, Pod Pack needed an ERP system that would grow with them.
"The size is right for our company," Gray says. "It can handle a lot of transactions and multiple locations as needed. From an install perspective, it has been much easier to digest and operationalize than some of its competitors' offerings. "At the same time, you benefit from having a fully-integrated system across finance, HR, manufacturing and purchasing," he adds. "We are able to leverage cutting-edge technology solutions without the headache and cost of a larger, less tailored option."
---
See it Live at PACK EXPO Connects Nov. 9-13: Ten things to consider when selecting a Metal Detector, An ITW Company. Preview the Showroom Here.
---
ERP data harvest drives continuous improvement
One thing about ERP implementation is that it suddenly introduces a whole lot of data that wasn't previously available on existing systems. Being able to manipulate these data to its advantage has been a boon to Pod Pack.
"We've seen immediate benefit to having access to real-time shop data on the floor," Gray says. "We have mandatory quality checks based on the size of the run and the type of product. Operators are flagged and required to do certain quality checks, and the quality data is logged into the ERP system. No paper means providing enhanced visibility into our end-to-end quality program.
"As important, we utilize real-time monitoring for all of the equipment, and we know every time a machine deviates from its production schedule," he adds. "If unexpected downtime elapses for greater than 120 seconds, the operator is required to code and document the situation. We've utilized that data to empower our production supervisors, who have real-time insights that were not available before automating our manufacturing processes with the DELMIAWORKS solution."
Closing the loop, Gray and Pod Pack are able to use this information with their maintenance team not only to address issues, but proactively optimize preventative maintenance schedules. Enhanced data usage for continuous improvement doesn't simply reduce downtime; it actively increases speed.
"Real-time data allows us to monitor the actual production speed when the machine is running. So, if the machine's running below our targeted units per minute, we can go to the floor and correct immediately. Targeted adjustments can be made to ensure each cell is hitting its production spec before the shift or run is over. "Again, it's all real-time data that allows us to pre-emptively manage potential risk and maximize overall productivity."
Case in point
Coffee packaging equipment is famously precise and complex. "If you take care of it and keep it running right, it will last forever, at least longer than I will," Gray says of this well-known packaging machinery dynamic. "As an example, we have two pieces of highly technical equipment that we run for a customer, equipment that is not readily accessible in today's market. We jumped at the opportunity to collaboratively solve the challenge. We brought it in, refurbished it, and customized it. By using downtime tracking and data collection, operators and engineers have been continually enhancing and fine-tuning the equipment. We successfully engineered a piece of legacy customer equipment and improved uptime from 35% to 70% uptime on a regular basis. And these are very high-speed machines, so that was a dramatic improvement in productivity and reliability. And then there are knock-on effects downstream, as more uptime in primary package then pushed the whole line to go faster, and secondary and end-of-line machine usage goes up.
"As a finance guy, I love it," Gray says. "Because by increasing my uptime and my reliability, I'm essentially increasing capacity without spending capital dollars. And that's huge for a high-growth company like us—being able to support additional volume running through the facility as our business continues to accelerate."
---
See it Live at PACK EXPO Connects Nov. 9-13: High Speed Camera, by Mega Speed. Preview the Showroom Here.
---
What's next
Many brands and packagers that implement ERP systems, with all its attendant data manipulation, take some time to realize all of the benefits. You connect all the cords and begin syphoning off so much data that it can't all be immediately actionable on day one. Pod Pack's experience has reflected this, but it intends, over time, to make the most out of the DELMIAWORKS ERP. After those initial wins in speed and downtime reduction, Gray and Pod Pack are moving on to new uses.
"We're rolling out dashboards to display on the production floor to provide the entire production team with quick overview of production runs and performance. We continue to add projects, and this system can scale with our growth," Gray says. "The system captures such an immense amount of data. We meet regularly with our system reporting lead to roll-out additional enhancements. We're continually adding new inputs to the system to allow it to do more for us and become more valuable to the organization. We're going to use it to drill down into our manufacturing costs and continue to enhance customer success. We've got a lot of data, and now we're realizing the full potential of that data to drive the best value and experience for our partners and customers."-PW
Companies in this article