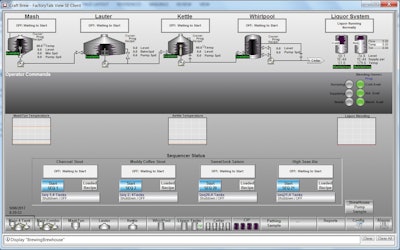 Founded in 1998, Ithaca Beer Co. Ithaca Beer Co. now brews about 25,000 barrels of beer annually and distributes it to 15 states. To ensure continued quality, consistency, and profitability of its craft brews as the company scales up, the Ithaca, NY, brewery automated part of its brewing process by installing a standardized yet customizable control platform to gain visibility into its operations and drive efficiency while still having the flexibility to fully automate its production in the future.
The system integrator that implemented the new Factory Talk Craft Brew solution from Rockwell Automation is OBG, a member of the Rockwell Automation Partner Network program. The pre-configured system offers cost-effective, flexible control to easily customize and automate a craft brewhouse. The platform is pre-engineered, -programmed, -tested, and -validated, significantly reducing commissioning and startup time.
"It was important for us to look for a solution that was easy to customize," says Andrew Hausman, Head of Brewing Operations at Ithaca. "We do not have a fully automated brewing process, so modifications were necessary. Plus, the solution is scalable for future growth and production changes, which was also an important part of our selection process."
With the FactoryTalk Craft Brew system, Ithaca Beer Co. is able to leverage most of its current assets and installed base, including existing I/O, variable-speed drives, and controllers — another key reason the company decided to standardize on the Rockwell platform.
Integrated and automated batch reporting offers electronic batch information directly through the HMI. In the past, the brewers had to manually write a batch report for every brew, which included entering important recipe information like gravities and pH levels manually. The new solution offers visualization and the capability to store and trend key batch data. It also simplifies troubleshooting efforts and allows brewers to better compare a "golden batch" to a batch with quality problems, saving hours of recipe adjustment time.
Using the pre-developed graphics within the FactoryTalk Craft Brew platform, the HMIs have a modern and more structured look and feel with accurate and consistent naming and tags. "It used to take us weeks to train a new brewer due to the additional difficulty of learning an operating system that had incomplete information," Hausman says. "Today, managers can train a new brewer in days. Everything is well-documented in the system, and it has an updated, more modern look."
The new solution also adds a layer of functionality to the brew tanks that Ithaca didn't have in the past. As part of the batch system, the brewery now has a fermentation scheduler with easy-to-add functionalities. This allows brewers to create a fermentation schedule within the system and choose which schedule to align to each individual vessel.
Moving to the semi-automated solution produced instant results for Ithaca Beer Co. Brew operations, for example, are now stable and reliable. "We have peace of mind in our operations, and our operators gained confidence in the process they didn't have before," Hausman says.
The modern HMIs use consistent and accurate naming, making it easier for the team to train new brewers and add a layer of visibility into operations for easier and faster troubleshooting. The new solution also provides a smoother and more structured process for recipe management. Recipe change and recipe implementation are simplified through the HMI, allowing brewers more time to concentrate on value-added tasks, including sanitation and quality checks.
With a direct line of sight into equipment diagnostics and key batch data, downtime has been reduced significantly. Brewers can troubleshoot system and recipe issues that arise more quickly. Since installing the new solution, the brewery has not experienced any significant downtime event.
"One day of downtime in this business can equate to a loss of approximately $75,000 in revenue, and we experienced days of downtime a couple times a year with our old system," Hausman says.
Companies in this article