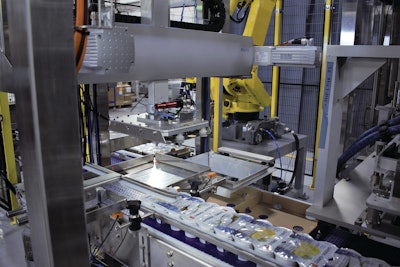 Nuspark is a well-established builder of custom case/tray packers and palletizers for a wide variety of customers. For tray-loading solutions, the firm typically uses a top-mounted delta-style robot for the pick-and-place function that is central to any tray-loading application.
But recently a customer needed a tray loader and had minimal space into which the system had to fit. So Nuspark substituted an EXCT-100 T-Gantry system from Festo in place of the delta-style approach.
"We emphasize a respect for our customer's real estate—every machine is one of a kind, depending on the restrictions and constraints that our customers have," says Boris Motskin, Nuspark General Manager. "In this case, they gave us the amount of space available and we took it from there."
The compact Festo EXCT-100 high-speed linear gantry with vacuum-gripper end effector is teamed up with the Festo Motion Control Package (FMCP). The gantry loads 24 single-serve yogurt cups with a single pick. The EXCT's two fixed servo motors drive a toothed belt arranged in a T-shape. The FMCP, configured for Ethernet IP, synchronizes the interaction of the servos to control the movement of the interface along the horizontal axis with a consistent pick accuracy of plus-or-minus 0.1 mm.
Substituting the EXCT for the delta-style robot lowered the overall machine cost. "The benefits as a whole are functionality and ease of integration," says Motskin. "But cost is important, too, because at the end of the day we still have to be competitive in the market."
The EXCT-100 is rated for up to 90 picks/min, but high-speed motion wasn't a high priority in this particular application. "We had been investigating this gantry for some time and it was just a matter of getting the right application for it," says Motskin. "We preferred for a first experience not to try it on a higher-speed application—so as to get comfortable with it."
The all-in-one hardware/software FMCP package can be set up to control any standard Festo Cartesian robot, as well as the specific applications they are to perform, with no special programming knowledge required. The robot and FMCP come pre-assembled and pre-tested and can be coupled together, whereas the delta-style top-mounted robot Nuspark has used until now requires in-house assembly.
This project proved the versatility of the FMCP concept, which is all about breaking down psychological barriers regarding the combination of handling solutions with control systems from different suppliers. As part of the pre-planning phase, says Ray Reginato, Festo Canada's industry segment account manager, his team also performed detailed cycle-time analysis. It showed that the EXCT/FMPC combination would perform just as well with the end user's single-phase, 230V power supply as it does with three-phase 480V, the available power supply for all previous installations in Canada. "The ability of this combination of technologies to work equally well with 230V power provides more OEMs and end users with an attractive alternative for case and tray packing applications," says Reginato.

Companies in this article