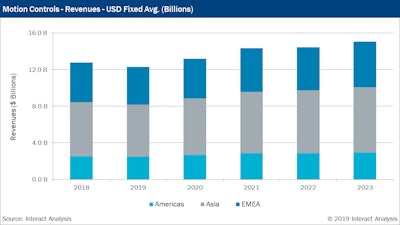 Market intelligence firm Interact Analysis has released a new market report, "Motion Controls – 2019," which points to strong growth in the motion controls market over the next four years. Despite a small decline of -3.8% in 2019, the report estimates the motion control market will grow significantly moving forward, exceeding $15 billion in 2023. The report also notes that the motion control market will outpace the growth of global manufacturing production from 2020 onward. This positive outlook holds true despite the struggles currently facing machine tool vendors which—as the single largest consumer of motion control products—generated over a third of motion control revenues in 2018.
Among the sectors helping drive a more positive outlook for motion controls are food and beverage machinery, packaging machinery, robotics, and material handling equipment, especially for warehouse automation and intralogistics. Together these sectors generated just under a quarter of total motion control revenues in 2018 and are forecast to account for closer to 30% in 2023.
Another factor identified by the report as strengthening the outlook for motion control demand is the trend toward decentralized servo drives, where higher protection ratings are helping advance the market for these motion products. Despite the fact that even combined, the opportunity for servomotors with an integrated drive and decentralized servo drives is small compared to the total (representing only 2.4% of the global market in 2018), the report shows that revenues for these products are projected to experience higher growth than the rest of the market, driving their combined value to exceed $500 million in 2023.
Geographically, six regions—China, Germany, Italy, Japan, South Korea, and the U.S.—will continue to dominate market revenues. China, in particular, is expected to add significant revenues over the next four years, making it almost twice as big as the U.S. market. In industry terms, those sectors utilizing metal cutting tools remain the largest in revenue, however the strongest overall growth during the forecast period is forecast to come from mobile robots and industrial robots, which are the only ones that experienced growth in 2019 versus 2018.
Says Tim Dawson, Research Director for Interact Analysis and principal analyst of the motion controls report, "Although the motion control market may be considered fairly mature, there are important trends impacting its future growth, helping drive revenues at an above average rate for the long term. Couple that with product releases from new vendors, plus expanding portfolios from existing ones, and the fundamentals for this industry appear very strong, even despite headwinds in certain key sectors."