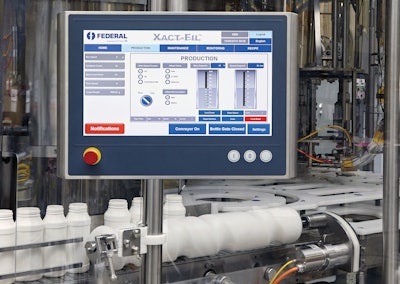 Four different packaging machinery OEMs are meeting emerging marketplace demands by leveraging the latest in controls and automation technology. At ProMach's Federal Manufacturing group, Beckhoff components are behind a next-gen liquid weight filler. At Coesia's R.A Jones, SIKO position indicators now rely on a standardized communications protocol, IO-Link, for data transmission to and from the PLC. At Winpak, continuous controls improvements involving Bosch Rexroth technology have brought multiple benefits. And at Omori-Europe, servo motors and drives from Lenze make it much easier to penetrate a European market whose regulations and safety requirements are quite specific.
We begin with Federal Manufacturing, where meeting customer demands while adding functionality led to the 2017 introduction of the XACT-FIL™ machine. An important addition to the comprehensive range of ProMach solutions, the XACT-FIL is a multi-model line of next-generation weight fillers suitable for HDPE, PET, metal, or glass containers in sizes ranging from 1 oz to 5 gal. The machines use a feed screw to load containers onto a carousel. Then a filling turret dispenses liquid food products—hot sauce, milk, olive oil—or non-food products including paint, chemicals, or automotive lubricants. Scales throughout the machine measure the weight of a container thousands of times per second, providing a fill-weight accuracy of plus or minus half a percent—or better. Containers then move to a capping turret to be sealed.
Because the XACT-FIL offers greater versatility than previous Federal systems, ProMach engineers had to upgrade to new automation and controls technologies capable of supporting not just versatility but greater speed and reliability. They also wanted to minimize space requirements and the number of cables involved. After all, in the food industry, fewer cables means improved hygiene. "More cables also create more entry points for equipment failure, so a single cable running a device is better than two," says Cezary Mroz, Vice President of Engineering for ProMach Filling Systems.
Coordinating the machine's rapid yet precise loading, filling, and capping sequences requires powerful automation, motion control, and I/O systems. In addition, all hardware and software must communicate with the utmost precision, as high quality, non-contact filling is one of the machine's main selling points. In this process, the liquid never touches the container above the fill line or the exterior of the nozzle, which prevents liquids from dripping on the outsides of containers and keeps the machine clean. "With non-contact filling, the nozzle hovers above the opening, usually about a quarter of an inch," Mroz says. "Strict attention to hygiene and avoiding cross-contamination is critical, so non-contact filling is simply the cleanest approach."
All of these considerations created a tall order for ProMach, and Mroz and his team did not have time to waste. The XACT-FIL machine needed to premier at PACK EXPO 2017, but at the beginning of the year, they still had not finalized the design. Faced with this deadline, Mroz and his team turned to Beckhoff Automation in February of 2017. In fairly short order they had designed a system that uses a Beckhoff CX5140 Embedded PC with a four-core Intel Atom E3845 processor. Mroz explains that the embedded PC's dimensions of 142 mm x 100 mm x 92 mm quickly reduced cabinet size: "When many people see the CX embedded controller, they ask me, 'Where's the rest of it?' It's exceptionally compact and powerful, which is exactly what we needed." This helped ProMach improve the reliability and throughput of the XACT-FIL, adds Kurt Schneider, Applications Engineer for Beckhoff.
The CX5140 runs TwinCAT 3 automation software, and Mroz appreciates that the open hardware platform also runs any add-on software that works on Windows and easily communicates with legacy systems. Mroz explains that the benefits of TwinCAT became more apparent due to its unique runtime licensing: "Our original project included our base PLC and HMI programs, and we thought that would cover all of the machine functions. However, as the project grew, we needed to include motion control. A runtime license was simply added to make the
application ready for motion. It's nothing more than electronic keying." As a backup, a CFast card programmed with all PLC and motion control projects for the XACT-FIL ensures that even if the machine encounters a problem, it can continue to load, fill, and cap containers with a quick swap of the solid-state media if needed.
Machine operators control and monitor XACT-FIL units via a Beckhoff CP3918 control panel, which boasts a 19-inch touchscreen and multi-touch functionality for advanced HMI. This stainless steel model is mounted to a pole beside the filling turret, making it easy to see the screen and monitor the machine functions at the same time. "The multi-touch panel is very sleek and simple, and the resolution on the screen is brilliant as well," Mroz says. "Beckhoff offers multiple multi-touch panel form factors that work with the scalable HMI software options to provide solutions for any screen size and performance level we need to implement."
For motion control hardware, ProMach selected Beckhoff AM8841 servo motors to operate the filling turret, capper, and feed screw. These stainless series servo motors on timing screws reduce the amount of torque needed and support IP69K wash-down environments. The final design boasts a unique lubrication and vibration-free Accu-Cycloidal™ gearing system developed over many years by ProMach. Mroz found that AX5000 series servo drives from Beckhoff provided compact hardware to implement the three-axis motion system: "With other drive vendors we tested, we would have had to use a wider servo drive form factor, meaning the doors wouldn't close in the compact enclosure we used in the XACT-FIL to maintain small machine footprint. However, the AX5000 servo drives are very narrow and fit perfectly." In addition, one cable technology (OCT) provides power and feedback signals to the motors through one cable, further reducing footprint.
Serving as the drives bus and the I/O system, EtherCAT industrial Ethernet communication facilitates real-time communication while further minimizing form factor.
Thomas Retzlaff, Wisconsin Area Sales Manager for Beckhoff, says the high-density 16-channel HD EtherCAT Terminals proved especially helpful in reducing footprint: "Rotary fillers have considerable space constrictions, so the compact HD terminals are perfect for this application," he adds. It is especially important with non-contact filling to ensure that each container is handled with great accuracy and each machine component activated at precisely the right time. Mroz explains that the real-time networking capabilities of EtherCAT eliminate common mistakes on the production line: "EtherCAT delivers by far the fastest, most widely adopted industrial protocol available in terms of device variety," says Mroz.
While boasting a design just as durable and hygienic as previous ProMach solutions, the XACT-FIL reduced its required part count by 25% and overall machine footprint by 30%. In addition, EtherCAT roughly quadrupled the number of weight measurements per second, increasing it from 1,200 to 5,000. "EtherCAT and TwinCAT allow the valve output I/O and the load cell measurements to be synchronously scanned with the PLC code cycle time of 200 microseconds," says Beckhoff's Schneider. "This provides tighter overall valve response and accuracy."
The ProMach and Beckhoff engineers completed the first XACT-FIL in time for PACK EXPO 2017, and in addition to shrinking size requirements and using open platform PC-based controls, the machine provides a plug-and-play solution. This was something Mroz always wanted to accomplish but was unable to do so until partnering with Beckhoff. This showcases the flexibility of Beckhoff technology in creating a modular weight-filling system, says Retzlaff.
Mroz believes there are no limitations to what PC-based control technology and a can-do mindset can accomplish. However, it is easier for ProMach, as an international company, to build and sell equipment when its automation and control technology vendor can provide components and support worldwide. "We have experienced many advantages due to cost savings and the quality of the technology itself, but another benefit is that Beckhoff is a global company," Mroz says. "Because we can get support wherever and whenever we need it, I'm not losing any sleep worrying about whether a machine will power up tomorrow or the next day. Beckhoff has harnessed all the benefits of PC-based systems to help us provide a reliable, highly accurate, and internationally recognized weight-filling solution."
Advantages of recognized standards
Position indicators from SIKO GmbH play an important role when it comes to changeover in all eight models in the Criterion series of cartoners from RA Jones, a Coesia company. Some years ago these position indicators were mechanical in nature, where an operator would pull out a manual to see what setting was needed on the position indicator if production was changing from, say, a six- to an eight-pack. The operator would then manually modify machine parameters according to instructions in the manual.
A few years ago SIKO introduced the AP10, a position indicator that is programmed through the machine's PLC. This brought considerable advantages, because it meant the desired setting was dictated by the PLC control system rather than by an operator. It also introduced a two-line LED display, so that the operator could see both the target position being delivered by the PLC and compare it to the actual position at which the machine was set. Just as important, the AP10 provided feedback on the positioning status to the machine control system, which maximizes process reliability for size changeovers and optimizes setup times. This prevents incorrect settings, which in turn prevents packaging material waste and damage to machine tooling.
In Q2 of this year, SIKO introduced the AP10 IO-Link position indicator, and RA Jones has now implemented it across the entire series of Criterion cartoners. The chief difference in this new position indicator is that the IO-Link communications protocol rather than the RS485 is now the network across which data is transmitted from the PLC to the position indicators out on the machine. IO-Link is defined as a short-distance, bi-directional, digital, point-to-point, wired (or wireless), industrial communications networking standard (IEC 61131-9) used for connecting digital sensors and actuators to either a type of industrial fieldbus or a type of industrial Ethernet. Its objective is to provide a technological platform that enables the development and use of sensors and actuators that can produce and consume enriched sets of data that in turn can be used for economically optimizing industrial automated processes and operations.
"The IO-Link communications protocol provides a variety of benefits, some associated with wiring, some with programming, and some with commissioning," says Robert Kalany, Engineering Manager at RA Jones. "The RS485 network we relied on previously is certainly valuable, but it has some shortcomings. Among them is a wiring scheme that requires considerable expertise. It's also limited to 31 axes of motion. And if a position indicator fails and has to be replaced, it has to be recommissioned. The IO-Link Master eliminates this need for recommissioning and reprogramming."
Elaborating on this last point is Steffen Preg, CEO at SIKO Products, Inc., the U.S. subsidiary of Germany-based SIKO GmbH. "The IO-Master provides the interface to the higher-level machine controller, in this case a PLC, and controls the communication with the connected IO-Link devices. The Master also stores settings and configurations for position indicators. So if a position indicator needs to be replaced, all the necessary configurations are quickly sent to the new position indicator from the Master without any reprogramming of the new device. It's plug and play."
Kalany says the AP10 IO-Link position indicator brings benefits to both the builder and the buyer of a Criterion Series cartoner. "With simpler wiring and programming, it's easier for us to build the machine and less time is required to install and commission a machine at the customer plant."
Machine evolution shaped by controls
From yogurt to applesauce, Winpak is an industry leader for vertical form/fill/seal machines as well as horizontal fill and seal machines specializing in liquid and semi-liquid products. For 21 years Bosch Rexroth has helped Winpak deliver state-of-the-art packaging machines to end-users around the world.
The latest Winpak packaging machines save significant time, energy, and packaging material while sealing more reliably and efficiently for its customers in the food and packaging industry. Thanks to an electrical machine redesign and continuous automation improvements, Winpak machines do more with less.
Mark Griffin, Director of Sales and Marketing at Winpak, says there has been a steady evolution of their machines that has been driven by Bosch Rexroth automation technologies. "Adding Rexroth's IndraDrive C servo drives together with their MLC Programmable Automation Controller into all of our equipment enabled higher throughput and made our machines safer and more cost-effective compared to large mechanically driven sub-assemblies," says Griffin. Furthermore, adding servo technology to the machinery allowed Winpak to introduce clean-in-place technology that has dramatically improved food safety and ergonomic safety in their customers' facilities.
Simplified machine design has also been made possible through advances in controls components. There was a time when Winpak's machines required three separate processors—a motion controller, a temperature controller, and a PLC for CIP mode and other tasks. The advancement of Bosch Rexroth controls has allowed Winpak to take cost out of the machines and simplify the design by bringing fully integrated temperature controllers onboard without affecting the critical operating speed of up to 130 cycles/min.
Another big step forward had to do with the issue of safety. As safety codes changed in Europe and North America, Winpak had to change control platforms. While adding safety, the challenge was to not negatively affect the operating sequences on the machine. Using Rexroth servo drives with SafeMotion onboard greatly improved the overall machine efficiency. A dedicated Safety PLC from Bosch Rexroth, SafeLogic Compact SLc with Safety I/O monitors all safety signals and channels assuring the ultimate safety to machine operators and maintenance personnel. The machine operator or maintenance person no longer needs to disconnect mains voltage once the machine is in the SafeMotion mode while making minor changes. "The machine can be put back into operation without having to synchronize all the axes together," says Griffin. "This reduces downtime as well as product scrap and waste."
And then there's IoT, which, at its most fundamental level, is all about bringing transparency through better connectivity. Winpak understands the value of connecting their machinery and using real-time data to improve machine availability. "Our customers are asking for machine availability, downtime monitoring, predictive maintenance, and smart machine monitoring," says Griffin. "We are working with Rexroth on initiatives like these to make our platforms more user-friendly and machines that are capable of much greater uptimes. With the help of predictive maintenance and downtime tracking, our machines' operations become smarter and more intuitive."
But where would all of these controls technologies have gotten Winpak had there not also been 24/7 support and service? "As we moved from simple mechanical machines to electronically driven machines, Bosch Rexroth on-site training plus training at their technical facility in Hoffman Estates, IL, was key in helping our customers understand how to troubleshoot and potentially modify code locally," says Griffin. "It gives our service technicians peace of mind every day knowing that they can get ahold of someone some place in the world who can help them 24/7 if they need integration or troubleshooting support."
Innovative solutions through a trusted partnership
Innovative packaging machinery OEMs are faced with a choice. They can either come up with their own ideas for the issues they face or they can call upon the experience of long-serving partners and realize appealing and intelligent solutions together.
Omori Europe, the European division of the well-known Japanese manufacturer of flow wrapping machinery, opted for the partnership approach when developing its new horizontal flow wrapper. Consisting only of European components and built in Omori's Oldenzaal facility in the Netherlands, the machines in the S-5000 Series are fully CE-approved. The CE marking is Omori Europe's way of showing that the machines comply with all applicable guidelines and legislation.
Until Omori Europe started building the S-5000 Series in 2017, Omori machines were brought into the European market by Selo Food Technology B.V., a Dutch provider of packaging and production line solutions. But by 2016, Selo and Omori recognized that the controls and automation technology at the heart of the machines being built in Japan was not as well aligned with European regulations as it might be. This was partly true in terms of functionality, but it was especially true where CE marking and safety were concerned. So Omori Europe went looking for another controls solution, a search that led them to Lenze and its motion control, servo drives and motors, and innovative way of cooperating in the engineering phase. A strong partnership between software engineers from Omori and Lenze—which included plenty of discussions as the original concept evolved into the solution—made the machine especially user friendly. A key to the process was the use of Lenze's FAST Application Software Toolbox. Lenze's standard software modules make it easy to develop modular mechanical control by simply adding individual modules and a Lenze application template.
The controls architecture that Omori Europe arrived at (see diagram) includes a Siemens PLC and HMI. The Lenze motion controller/PLC acts as a gateway from the Siemens "line controller" to the motion axis. A connection via Profinet from the Siemens PLC to a Lenze 3200c-series motion controller takes care of motion, I/O, and temperature measurements of the sealing bars. Actuation is executed by six to 10 Lenze geared motors from the G500 series and the Lenze i700 multi-axis servo drive systems, and Lenze has the main motion and temperature tasks. The inclusion of the Siemens PLC above, says Lenze's Marcel Toonen, is commonly requested by customers whose service engineers are familiar with Siemens.
The integration of advanced technologies by Omori Japan and Lenze Netherlands has resulted in an efficient flow wrapper with very compact dimensions, which can be integrated into any production environment. Plus the machine has proven to be very user-friendly for production workers as well as maintenance teams.
Companies in this article